Cost of living– support for people with sight loss
Posted: Monday 30 January 2023 at 00:00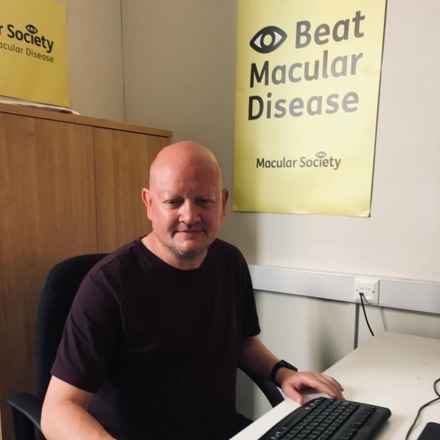 It can be a minefield trying to navigate the financial support available to you if you have a sight condition. However, the Macular Society's Working Age and Young People's Service manager, Colin Daniels, is here to help.
Speaking at his monthly My Macular and Me webinar, Colin shared his advice, that anyone aged 16 right through to pension age, with a disability, should claim for Personal Independence Payments (PIP).
Colin said: "If you're registered as sight impaired, severely sight impaired and you're under pension age and over 16, please make a claim for PIP."
"If you're over pension age and registered sight impaired or severely impaired, or your vision is to the point it's impacting your daily life, please claim Attendance Allowance."
He discussed how registering a visual impairment may help people claim benefit entitlements and how Personal Independence Payments (PIP) can support your day-to-day life.
Colin explained: "Living with sight loss, at any level when it impacts on your day to day, is quite expensive. With macular disease in particular, we turn a lot of lights on, so your house is lit up like Blackpool illuminations. That costs money.
"Finding a place on your own or somewhere new can be very difficult, with a change in buses, trains, and taxis are expensive, so a benefit is there to help pay for that taxi."
Colin, who has Stargardt disease and 15 years of welfare officer experience, claims PIP and explained what he uses his allowance for.
He said: "I claim PIP as I'm registered severely sight impaired and I use my allowance for a cleaner because I can't see to clean my house effectively. I explain to people how I claim my PIP to enhance my life, so they can see where and how they might use it themselves."
However, Colin said having a Certification of Visual Impairment (CVI) isn't enough to qualify for disability benefits.
He said "Being registered is not a given when qualifying for disability benefits. It does help, it's really strong evidence to be living with significant sight loss but it's not a given you'll receive the benefit you claim for."
He stressed people need to evidence the impact of their sight loss and show what can go wrong.
Providing evidence helps a claimant to "score points" against what the assessor is looking for. "A list of 'I'm unable to do something' is not good enough," Colin said.
Talking about the cost of living crisis, Colin shared his top tip for saving money on electricity and gas bills.
He said: "One of the ways to save money is having a smart meter," and thanks to recent calls, new talking and large print smart meter displays may be available through your energy supplier.
He said: "Monitoring your gas and electricity use is a way of saving money. Every little counts at the moment and a display which speaks out what you've used in a day or an hour, will really help you to budget, if you realise you have too many lights on, or you can turn off appliances that you're not using."
Colin also explained how people in Northern Ireland can expect a one-off £600 payment towards their gas and electricity bills from the Northern Ireland Assembly, sometime within the next couple of months.
As well as this, Colin used his January My Macular and Me webinar to highlight other benefits such as cold weather payments, carers allowance, pension credit, and more.
For help and advice with benefits or completing forms, email Colin Daniels at colin.daniels@macularsociety.org or contact the Macular Society Advice and Information Service on 0300 3030 111 or email help@macularsociety.org
Watch the webinar in full on the Macular Society YouTube channel.
You can now register for the next Working Age and Young People webinar on Thursday, 23 February, 6.30pm, where Colin will chat to Professor Tunde Peto of Queen's University Belfast. She will discuss the latest diabetic research funded by the Macular Society.