Five ways you can make a difference as a volunteer in 2023
Posted: Tuesday 03 January 2023 at 00:00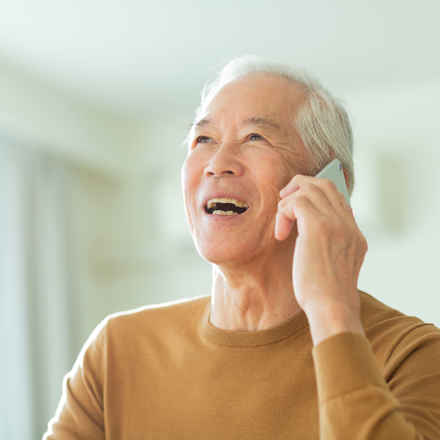 From managing support groups to providing a listening ear on the telephone, there are many ways people are making a difference to the lives of people living with sight loss.
In 2022, our army of volunteers played a key role helping people to beat the fear and isolation of macular disease - from being a friendly voice on the phone to supporting others to make the best use of their remaining vision.
Many of our volunteers are visually impaired themselves and enjoy the chance to develop new skills and meet new people. 
That was the case for Hazel, 86, who woke up one morning and couldn't see a thing. "It was frightening, devastating," she said. After her diagnosis, Hazel found a passion for helping others as an eye injection buddy and telephone befriender.
She said: "I love volunteering for the Macular Society. Honestly, it gives me as much pleasure as I hope I give the people that I speak to. I will do it for the rest of my life, as long as I can."
There are different roles you could do to help support others, right across the UK.
1. Connect by Tech
Our Connect by Tech volunteers assist people with everyday tasks and demonstrate technology such as smartphones, tablets and ereaders. 
2. Befrienders
Befrienders offer a friendly ear to people affected by macular disease through regular phone calls.
3. Treatment Buddies
Our treatment buddies provide support and advice for people who may be concerned about going for eye injections.
4. Group volunteers
With a network of more than 400 support groups across the UK, there are lots of opportunities available to help, including group leaders, treasurers and secretaries.
5. Research lay panel member
Do you want to help find a cure for macular disease? As a research lay panel member you will be asked to read lay summaries of research grant applications and provide scores and comments on whether you think the project would have benefit to patients.
For Pauline, 88 from Winchester, volunteering is about 'building people up', 'friendship' and 'helping others see the positives' after a diagnosis of macular disease.
As one of our 220 telephone befrienders, she said: "It's about friendship for me. One of the women I speak to in Derby told me that if we met we'd be best friends, so that was a lovely thing.
"It's a lot of listening and interesting to hear about other people's lives - people do and have done such different things."
Become a volunteer in 2023
You can join our army of volunteers by contacting our volunteer team on 01264 326 622 or fill out the online registration form.