'Inspiring' pop singer and Macular Society patron Vince Hill dies age 89
Posted: Monday 24 July 2023 at 00:00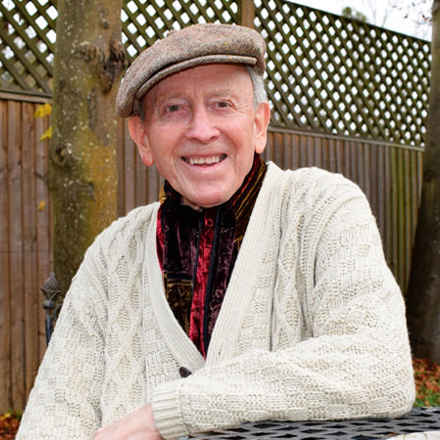 Pop singer and Macular Society patron Vince Hill has died at the age of 89.
Vince, who is best known for his cover of hit song Edelweiss which featured in The Sound of Music, has died peacefully at his home in Henley-on-Thames.
Paying tribute to the singer, chief executive of the Macular Society, Cathy Yelf said: "Vince was an extraordinary talent, gracing the world with his beautiful voice and music.
"In recent years, he became an incredible support to the Macular Society, and we are immensely grateful for his unwavering dedication to our cause. His willingness to raise awareness of age-related macular degeneration (AMD), which we know had such a personal impact on his life, was inspiring. Vince's generosity in sharing his story also helped countless others come to terms with the challenges of such a diagnosis.
"During his time as our patron his warmth and compassion made a big impact on our organisation and the people we help. He truly supported and helped us in our mission to Beat Macular Disease."
She added: "We are very sad to hear the news of his passing and send our heartfelt sympathy to all of his friends and family at this time."
Vince was diagnosed with age-related macular degeneration (AMD) in 2011. But it wasn't until his vision deteriorated in 2019, forcing him to retire, he began to speak more openly about his condition.
After seeking counselling from the charity in 2020, Vince became a patron as he became passionate about raising awareness and funds to Beat Macular Disease, even donating all the proceeds from sales of his Legacy greatest hits CD to the charity. 
Vince's diagnosis had a profound impact on his life and he always expressed his sincere gratitude to the Society for its support. 
In 2020, he said: "The Macular Society was wonderfully supportive, offering me counselling by phone, which helped me come to terms with my diagnosis. I am absolutely in sympathy that this life-changing disease does not get as much publicity as some medical conditions do, which is why I wanted to use my celebrity to help raise awareness and support."
Just last month Vince put one of his most beloved cars up for sale to raise funds for the Macular Society and Blind Veterans UK. The 1996 Jaguar XJ6, in British racing green, which cost £34,000 brand new is still up for auction online.
Born in Coventry in 1934, Vince began singing as a teenager and released his debut album, The Rivers Run Dry, in May 1962.
He released 25 studio albums, performed at Sydney Opera House, London's Royal Albert Hall and the London Palladium and was also a TV and radio presenter, hosting Vince Hill's Solid Gold Music Show on Radio Two and an ITV chatshow called Gas Street.
Vince retired from performing due to his sight loss. Talking to the Macular Society in 2020, he said: "I am a singer and artist, and I like to get on stage, and it precludes me from doing that. I have to be so careful backstage as the theatres are usually poorly lit and cluttered, it can be very, very dangerous."
The Macular Society sends its condolences to Vince's friends and family at this very difficult time.
A tribute page has been set up for Vince. Donate in his memory.