Improving eye care services: a shared vision
Posted: Wednesday 07 June 2023 at 00:00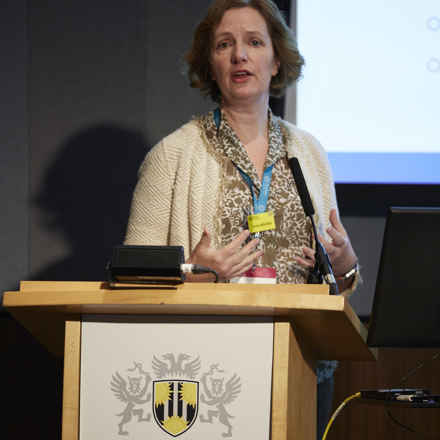 The national clinical director for eye care, Louisa Wickham, says she is determined to address the challenges faced by the sector and improve services for patients.
Louisa, who was appointed to the role last year, recognised the need for change as she spoke at the recent Royal College of Ophthalmologists Annual Congress.
At the event, Louisa outlined the vision for improvement and how she has been working with NHS England and eye care professionals across the country to come up with a plan for the future, putting patients at the centre of her approach.  
She said: "We wanted to be very clear about the outcome that we were setting out to achieve and that is that people don't suffer preventable sight loss due to the lack of access of appropriate care."
One of the key areas Louisa highlighted is giving patients a greater say in their treatment and care decisions, enabling them to make choices that suit their individual needs and preferences.
Creating smoother care pathways is another key aspect of the vision. By rethinking how eye care is organised, Louisa wants to see seamless journeys for patients from the initial consultation to treatment, minimising unnecessary visits to hospitals and handovers between primary and secondary care. As well as improving efficiency it is hoped this streamlining of the process will improve overall patient experiences.
Other areas of focus Louisa detailed were using technology such as video calls or other methods of digital communication to interact with patients, instead of always requiring in person appointments.  The use of digital tools is hoped to make accessing care more convenient for patients, ensuring that they receive the support they need, when they need it.
Louisa also highlighted the need to integrate hospital eye care, primary eye care, and social services.
At her talk, which was part of a panel discussion hosted by The Eyes Have it Partnership, of which the Macular Society is a member, Louisa shared the work she is leading to develop new models of care in North Central London. A pilot programme has recently been conducted in the area for patients with wet age-related macular degeneration, using technology such as video calls and online tools to make it easier for patients to get the care they need, without having to visit the hospital in person every time. The results showed positive outcomes and it is now hoped the initiative will be rolled out across other wet AMD services in the country, as well as other eye disease areas.   
Speaking to an audience of clinicians and representatives of the ophthalmology and optometry sectors", Louisa said: "This problem is not going to be sorted by one person's vision. The challenges we have in ophthalmology and eye care are significant and if we're going to address those challenges, actually that problem needs to be owned by all of us."
But acknowledging that the issues within eye care are not new, Louisa said the problems will not be fixed overnight.
"Even before Covid, ophthalmology was in a very difficult position," she said. "We had a number of challenges. We had a number of high-profile cases where people lost vision as a result of lack of follow up. I think the demand for eye care was outstripping our ability to supply it in a way that we would want to for our patients."
She added: "To think that we can just sort it out in six months, and we can just wave a wand and it all go ahead, it's not going to happen. So, we have to take little bite size chunks, small steps, and keep moving forward in the right direction."
By implementing this vision for improved eye care, it is hoped patients with age-related macular degeneration (AMD), as well as other eye conditions, will receive better and more accessible care. 
The Macular Society will continue to work with Louisa as part of The Eyes Have It partnership, to drive forward Louisa and NHS England's vision.