National Lottery funding helps delivery of key services and support
Posted: Wednesday 07 June 2023 at 00:00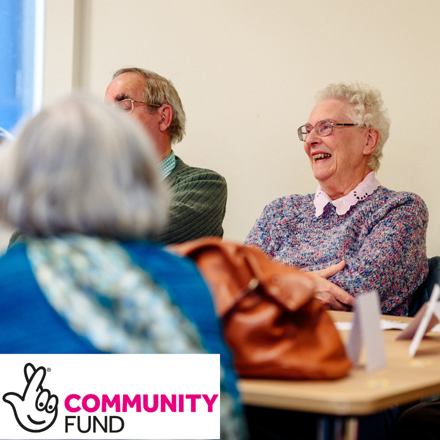 The Macular Society has received nearly £40,000 worth of grants from the National Lottery, to help support people in Wales and Northern Ireland.
In Northern Ireland, funding worth £9,880 has been ringfenced to help get key information packs and other supportive materials to people in the early stages of their macular disease diagnosis.
These detailed guides have been described as 'a lifeline' to people, providing vital information about their diagnosis and outlining the support and services that are readily available.
Eileen, 79 from Coleraine, was diagnosed with dry age-related macular degeneration (AMD) in 2017, for which there is currently no treatment. Eileen said she was not signposted to any support and felt as though she was left "in the dark" following her hospital appointment.
She said: "I had that same message ringing in my ears of 'there is nothing we can do, nothing can be done'. I came out of the hospital, literally in tears and I knew things were only going to get worse. I was so shocked about the whole thing, there was no information given to me."
There are around 55,000 people living with a macular condition across the country, with around 40 new diagnoses every day.
Ms O'Neill added: "The idea of patient information packs is the best thing ever because if I had had one on the day I was told I had macular degeneration, it would have made the world of difference.
"I'm so pleased these packs are being sent out to opticians, eye clinics and the such, so that at the point of diagnosis people can be more aware of the support."
Elsewhere, a grant of £28,486 from the National Lottery Community Fund Wales will help costs for local support groups, befrienders and other advice and information services, which prove vital to the thousands of people across the country with a macular condition.
Iona has AMD and joined her group in Harlech in early 2020. Sight loss has impacted her immensely, but her support group stopped the 84-year-old becoming depressed with her condition.
She said: "Being part of the support group has made a heck of a difference to me, without it I think I would have become very depressed. The group brings us all together, we talk to each other about our different experiences of sight loss, and share ideas of how we cope. We're more than people with macular disease, thanks to the group I've made a lot of new friends. It's really reassuring knowing that you're not on your own."
Rachel Harris, trusts and philanthropy manager at the Macular Society, said: "We welcome these new grants, which will ensure we can offer crucial support, advice and information to people affected by macular disease in the UK.
"On behalf of everyone who benefits from our services, we thank National Lottery players in Wales and Northern Ireland for helping to safeguard the life-changing support we offer freely to anyone affected by macular disease."
For more information, help or support about macular disease, contact the Macular Society Advice and Information service by calling 0300 3030 111 or email help@macularsociety.org