Patron Vince Hill auctioning off beloved Jaguar
Posted: Monday 19 June 2023 at 00:00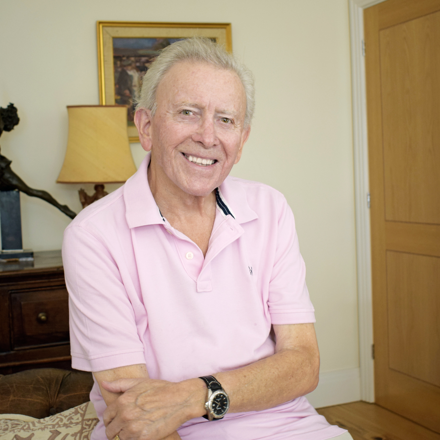 Macular Society patron and singer Vince Hill has put one of his most beloved cars up for sale to Beat Macular Disease.
Vince, who is best known for his recording of the show tune 'Edelweiss' in the 1960s, is parting ways with his 1996 Jaguar XJ6, in British racing green, which cost £34,000 brand new and he has cherished ever since.
He said: "It's such a beautiful car. I love it to pieces. I always want to cuddle it. It's a wonderful car and it has never given me one spot of trouble. It's lovely to drive — you just put your foot on the accelerator and it glides. But now I'm pushing 90 so it's not the time to be driving, as much as I love it."
Vince added that the Jaguar, now with 71,300 miles on the clock, was "shiny and new and always smelt new, with the leather and everything."
"People would always tell me how they liked it, especially when it was polished," he said. "I have special number plates too."
The 89-year-old will be donating proceeds from the sale to the Macular Society and Blind Veterans UK after he was diagnosed with age-related macular degeneration (AMD) in 2011. But, he didn't speak publicly about it until 2019, when his poor vision forced him to retire.
After seeking support from the Society's counselling service Vince has since been keen to do more for the charity, to raise awareness of the condition, and help others affected.
Vince said: "I would like it to go to a car fan, someone who loves Jaguars and is not going to just tear up and down the road with it. It's not that kind of car — it's a saloon and should be treated as such. It should only be used for weddings and special occasions."
His only other requirement is for a Greatest Hits cassette tape to be kept in the glove box, but Vince will be holding on to his special registration plate VE 777, which he bought in the 1960s.
He said: "I don't want to [get rid of it] because that would be like the final part of letting it go. As long as I've got the number plate, it feels like I still have the car."
Macular Society chief executive Cathy Yelf said: "What a fantastic gesture from Vince, to auction off a car of such sentimental value.
"This is a really exciting auction and a real treat for someone who shares the same passion for Jaguars as Vince.
"We are honoured that he has chosen to support us in this way and are so very grateful for his continued support."
The car can be viewed and is available through Bonhams' online auction.