"It doesn't matter how much I can see, it's just about being able to compete"
Posted: Tuesday 16 May 2023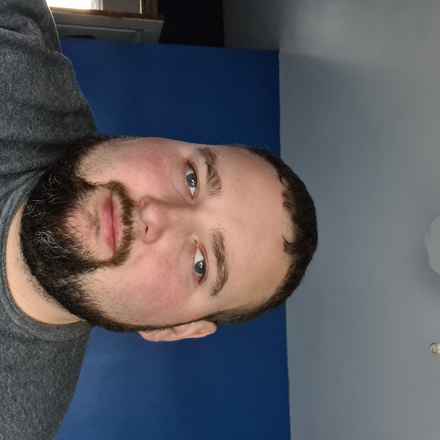 From pulling tractors weighing three tonnes, to throwing heavy barrels, 31-year-old Matt does not let his sight loss stand in his way as he continues to push the limits of human endurance.
The competitive weightlifter, who has Stargardt disease, is a regular competitor in gruelling strength competitions and has taken part in contests such as the World's Disabled Strongest Man, Britain's Disabled Strongest Man among other able-bodied events. Every year he organises his own local competition - the annual Vale of Berekely Strongest, which takes place in his hometown in Gloucestershire, with this year's event raising funds to Beat Macular Disease.
This year's challenges included: barrel toss, van lift, tractor pull and atlas stones, which sees competitors lift spherical stones which increase in weight from 100 to 160 kg.
Talking about the hardest challenge of the event, Matt said: "It varies every year but the heaviest and hardest is probably the tractor pull - It's three tonnes.
"It gets to the point where I can't wait for the day to arrive because everyone gets right into it. It's just great to see."
Matt was diagnosed with Stardgardt disease when he was eight years old, after he found himself needing to get up close to the teacher's board in school.
He said: "It was one of the teachers who noticed at first. In the morning we'd have maths problems on the board and I had to keep getting up to read it closely. The teachers suggested to my mum that I should go to an optician. From there I was sent to the Gloucester ophthalmology department and I was diagnosed within a couple of weeks.
"I didn't find anything too challenging growing up. The school were good, they got in touch with a sensory team from Gloucestershire Council and I learnt how to touch type on the computer. In general it wasn't difficult, I was just a kid going through life but it wasn't until I got older that things changed, when I was 16 comparing my eyesight to when I was eight, that's when day-to-day living got a bit harder. You just find ways to adapt through it."
Matt's deteriorating sight has never stopped him from pursuing his passion for weight training, though he does have some tips for people with a visual impairment who are working out.
"Having Stargardt does makes some things more difficult, so going to the gym for example and finding the right weights for the bars or ensuring I have the same weight on each side. Not all plates are the same. Most are black with white numbers on which helps me but others are harder to see when they're black weights with the weight number cut into it so it's all one colour.
"I train with people who know what I can do and when I need help I will ask. Otherwise I crack on, I don't let my sight loss get in the way of what I want to do. There can be occasions but you keep going and adapt until you really can't get past those limitations.
"But for me, that's why with Strongman it doesn't matter how much I can see, it's just about being able to do it. It's the time and dedication that goes into being able to compete against other people, even though I can't see as well as they can."
Through his Vale of Berkeley competition, Matt hopes to play his part in finding a cure for macular disease, if not for himself, for future generations.
He said: "From everything I've seen there is a lot of support for people from the Macular Society and they fund so much research. What's important to me is the Society has so many different avenues, the money will be spread out whether that's to help research or help services too.
"It's important to me because future generations will benefit. I don't think I'll see a cure for Stargardt disease in my time but I think we will one day. If I can raise some money to help fund that and it will benefit people then that's the best thing ever, so they don't have to go through what people like me, who have this disease, have been through."
The Vale of Berkeley Strongest competition took place in Berkeley, Gloucestershire, on Sunday, 28 May 2023.
Have you been inspired to fundraise for the Macular Society? From taking part in a major sporting event to organising your own event, you can help Beat Macular Disease. Our community fundraising team is here to support you all the way - email community@macularsociety.org or phone 01264 560 222.