Macular Society recognised on Best Places to Work list 2023
Posted: Friday 12 May 2023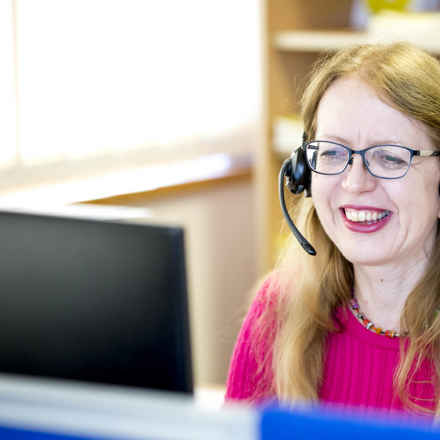 The Macular Society, has proven its commitment to creating an exceptional workplace environment after its recognition in the highly-regarded Sunday Times Best Places to Work list for 2023.
This recognition not only highlights the charity's dedication to promoting employee engagement, satisfaction and overall well-being, but also contributes to its overarching mission of beating macular disease.
The Sunday Times Best Places to Work awards are highly regarded in the business and employment community as they rely exclusively on feedback from employees. These lists celebrate organisations across various industries that foster the best workplace cultures.
In the survey conducted as part of the awards assessment, the Society achieved an impressive overall average engagement score of 80% - 7% above the industry average. This score positioned the charity in the 'Excellent' category.
Employees were also asked how important they believe their work is and if they feel proud of the organisation they work for. On average, 94% of respondents considered their work meaningful, and 90% expressed pride in being part of the organisation dedicated to supporting people living with macular disease.
Cathy Yelf, chief executive of the Macular Society said: "We are incredibly proud to be recognised in the Sunday Times Best Places to Work list. This fantastic accolade is a testament to the dedication and commitment of our remarkable staff who have contributed to creating a truly welcoming environment at the Macular Society.
"We understand the impact of macular disease on individuals and their loved ones, which is why our work is driven by a deep sense of purpose and passion. It is with immense pride that we can say our organisation has been acknowledged for creating an environment where our dedicated staff can make a real difference."
She added: "It is important to say that none of this would be possible without the support and dedication of our incredible supporters and volunteers who are an integral part of our community and play a vital role in making the Macular Society a great place to work."
The Macular Society did not enter the awards with the purpose of recognition, but to listen and learn from its employees. By participating in the survey, the charity aimed to gain valuable insights into its workplace culture and identify areas for improvement.
Rebecca Ward, head of HR, said: This recognition as one of the best places to work is a testament to the contributions and dedication of every team member at the Macular Society. It emphasises the charity's commitment to providing an inspiring and enjoyable work environment that enables the best advice, support, and hope for finding a cure for macular disease.
"These results demonstrate the value of everyone's contribution, dedication and pride in Beating Macular Disease."
While celebrating this achievement, the Macular Society remains determined to continue improving its workplace environment. The charity has developed an action plan based on the survey results to further enhance employee engagement and overall work satisfaction.
Read more about what Macular Society employees have to say about their workplace, or if you're interested in working for us take a look at the current job vacancies.