"You have to remind yourself what you can achieve"
Posted: Wednesday 03 May 2023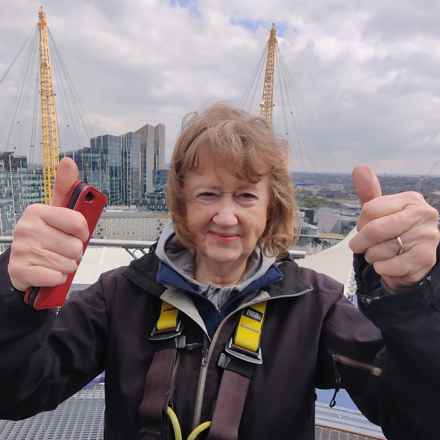 Judy, 79 has taken on the remarkable challenge of climbing the O2 in London in her determination to show others what they can achieve.
But the challenge wasn't an easy one for Judy and is something she never thought she'd be able to do. "It seemed incredibly steep, and I thought nobody of my age would attempt that." she said. 
To celebrate the approach of her 80th birthday, she wanted to do something different to mark the occasion.
"Climbing the O2 wasn't anything I wanted to do," she said. "In fact, I passed by it on a number of occasions in the past. I said to my son, who lives in London,  'I could never do that'.
"Then when it came to this year, being my 80th year, I said, 'it's time for a challenge'. He said, 'Well, you should do the O2, which would really be a challenge for you.'
Judy, who was diagnosed with age-related macular degeneration (AMD) around six years ago, took on the climb alongside her son Kevin.
She said: "I was a bit nervous at the beginning. It was raining in the morning so I was worried about the weather. But, as we got our harnesses on and climbed up, the sun came out, so that was good."
After noticing a deterioration in her sight in recent months, Judy talked about her motivation for choosing the challenge: "The connection with the climb and my sight is that when I get to the top and look both ways along the Thames, I know I will never be able to see that view as well I will see it then."
And the view from the top did not disappoint.
"It was unbelievable," she said. "It is so different to anything else because it's a 360 degree view and, unlike the Shard or other buildings, it is open and you're in the air. You are on top of the dome itself and out in the open, which means you are exposed to the elements too of course."
Talking about whether she'd do the climb again she said: "I would certainly be much more confident doing it again because I now know what's involved. Like everything else the worst part is not knowing. It was certainly a wonderful experience."
Judy hopes her efforts will help encourage others to challenge themselves.
She said: "You have to take yourself out of that comfort zone and take on challenges to remind yourself of what you can achieve. I want people to believe in what they can do. I think it's very easy to give up when you recognise your sight is slowly deteriorating.
"But I think you must test yourself all the time. It doesn't have to be at this level, of course this is something much bigger. But even the smallest tasks can be a problem with sight loss and you have to overcome it.
"You have to thank yourself and say 'I did that', it wasn't easy but I did that. Sometimes you have to take on a bigger challenge to remind yourself that you can do it. I was surprised to see how enthusiastic people were about what I was doing, saying they couldn't do it themselves."
Giving advice to others living with sight loss, Judy said: "The hardest thing to learn if you're independent, like me, is to say you want some help. Help is a very important word to use. Because you think 'I want to do it on my own.' But that is actually a pretty silly way of thinking. I've never had anybody refuse to give me help.
"When I was first diagnosed I didn't want to ask anyone for help but now I realise that that wasn't the right way to do it and it takes time to learn that."
Donate to Judy's fundraising page. 
If you've been inspired to fundraise for the Macular Society, there are plenty of ways you can get involved with fundraising. From taking part in a major sporting event to organising your own event, everything makes a difference. Contact us at community@macularsociety.org or phone 01264 560 222