Macular disease under the spotlight at Conservative conference
Posted: Wednesday 25 October 2023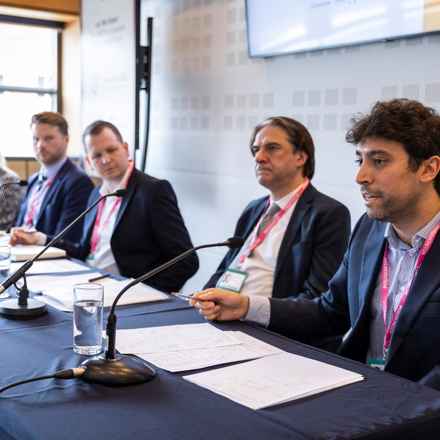 The Macular Society's director of research took to the stage at the Conservative Party Conference earlier this month to shine a light on the need to improve healthcare, especially for people living with macular disease.
Dr Peter Bloomfield took part in a panel discussion at the conference, to ensure the unique challenges faced by people with macular disease were recognised in the broader healthcare context.
Joining Peter on the panel were Conservative MP James Morris, Rob Burley from Muscular Dystrophy UK, and Kerry Leeson-Beevers from Alström Syndrome UK and Breaking Down Barriers.
Patient-centred healthcare
One of the major topics covered was the inconsistency in prioritising individual patient needs and preferences in healthcare. Peter highlighted that patient-centred care is a  "postcode lottery" and although there are some excellent practices, these standards are not consistent across the country.
The discussion emphasised the need to address these inconsistencies to make sure all patients receive the same level of care.
Peter highlighted the need for better patient pathways, which put the patient at the centre of their design.
Speaking after the event, he said: "Without consistent interaction and a good understanding of where you sit in a pathway it can take a very long time to get the help that is needed. Patient organisations and support services are currently crucial here.
"Unfortunately this service is required because health pathways have poor user-centred design and in many cases put the system and the specialty pathway ahead of the patient, making the system difficult to understand.
He added: "These issues are exacerbated in cases of multiple conditions and comorbidities, it is not feasible to have pathways designed for the individual, but it is essential that individuals can navigate patient pathways and move seamlessly between them."
Integrating research in healthcare
At the event Peter stressed the importance of integrating research more effectively into the healthcare systems.
He highlighted the need for patients to take part in clinical trials to ensure studies are not only more relevant but also more successful in producing beneficial results for everyone involved. Having real world data easily available in research, linked to primary care data and eye scans is vital here.
He said: "There is a great need in macular research, and ophthalmology as a whole, to increase the volume of research and development happening and translate this to clinical development as quickly as possible."
He added: "We are also seeing a great deal of exciting discovery happening to develop machine learning models and artificial intelligence (AI) based approaches to eye image analysis. While there are many interesting trials and research projects exploring the development of such tools, there's a problem when trying to deploy these new approaches in real-life situations, and it's hard to make sure they work well when used on a national scale."
Beating Macular Disease
The Macular Society's took part in the panel, hosted by The Health and Care Forum in partnership with pharmaceutical companies Roche and UCB, to ensure the needs of people with macular degeneration are not forgotten when designing healthcare for the future.
Peter added: "The Macular Society is working hard to deliver the future our members deserve. Having well designed health policies, with adequate funding to enable implementation is crucial.
"We will always rely on our members, supporters and service users to inform how we interact with policy makers. If the issues and areas discussed here are of interest and you would like to get involved, we want to hear from you."  
The Macular Society will be engaging with politicians again next month at the Westminster Eye Health Day. Find out more about the event. 
If you have any suggestions on how we interact with policy makers our research team would love to hear from you at research@macularsociety.org