Proposals to transform eye care to be unveiled to politicians
Posted: Friday 27 October 2023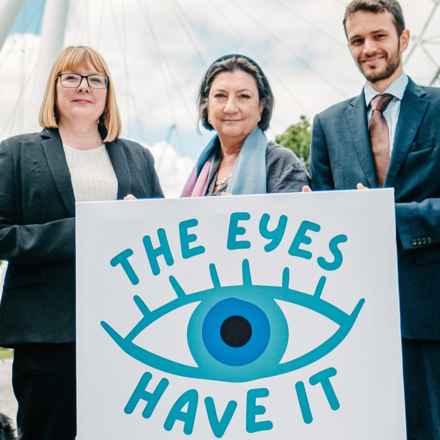 Recommendations for a national plan to improve eye care services across the UK will be presented to MPs in Parliament next month.
The Macular Society will join The Eyes Have It partnership in Westminster in December to discuss the proposals, which aim to reduce waiting lists and improve the overall eye health of the nation.
In August 2023, more than 640,000 people were waiting for specialist eye treatment in England, with nearly 20,000 people enduring year-long waits.
The Eyes Have It, a partnership of Roche, Fight for Sight / Vision Foundation, the Macular Society, The Royal College of Ophthalmologists, the Association of Optometrists and the RNIB,  believes immediate action is needed to address the capacity crisis facing ophthalmology.
A plan for a national eye care strategy, which promises to transform eye care in the UK, will be unveiled at the event, which will be hosted by hosted by Marsha de Cordova MP.  
Cathy Yelf, chief executive of the Macular Society, said: "This is an urgent situation now and unless there is action, it will get worse in the coming years as more people develop conditions like AMD.
"A national plan for eye care will help resolve the problems and improve outcomes for patients today and in the future."
As well as engaging politicians in discussions about policy changes needed to ensure sustainable improvements in eye care, the event will give MPs a chance to understand issues specific to their regions.
They will also be able to experience how individuals with age-related macular degeneration (AMD) perceive the world through Roche's virtual reality sight loss tool.
Westminster Eye Health Day will take place on Monday 11 December 2023, from 2.00pm to 4.30pm.
How can you help?
As we know from previous events, Parliamentarians have been more likely to attend if they were encouraged to do so by you, their constituents.
While we understand there are lots of things you may want to write to you MP about at the moment, this issue remains close to all of our hearts and we must not let anything stand in the way of Beating Macular Disease.
You can invite your MP to attend.
If you don't know who your MP is, you can Find your MP online. 
Let us know if you have managed to reach out to your MP by emailing stories@macularsociety.org