"You have to try and remain connected and appreciate what you've got"
Posted: Thursday 26 October 2023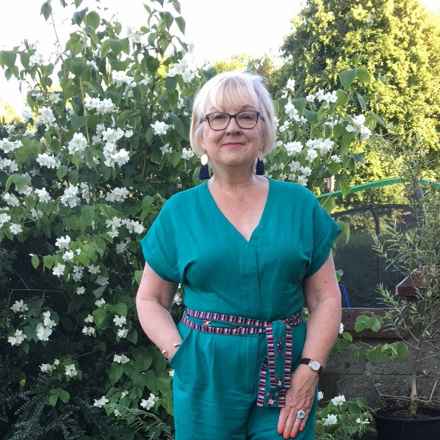 With lots going on in her personal life in 2017 Geraldine admits she had little time to process the news that she had the early stages of age-related macular degeneration (AMD). 
The 74 year old received the diagnosis at a routine eye test but with her mother in the late stages of dementia and her brother revealing he had terminal cancer she didn't take the information on board.
"It was a very busy year so I didn't really process it," she said.
"My mother had had dementia for a long time and we were obviously very involved in taking care of that. My mother died late on in 2017, and then very early in 2018, my brother, who was younger than me, rang me to say he had oesophageal cancer and he was dead within six months.
"I wasn't walking around frightened of it at that point because there were so many other things happening."
Then, as the COVID-19 pandemic swept across the world in 2020, her vision began to deteriorate and it started to weigh heavily on her mind.
She said: "I started to really internalise it and worry about it. For a time I became very neurotic about it,"
Geraldine's mother had AMD, but lost her sight before there was any treatment available. But, she'd never considered the possibility it might happen to her.
"Nobody else in my mother's family had it, and she had six brothers and sisters. I hadn't really thought about the possibility of getting it, but I suppose at the back of my mind, I was wondering what my chances would be."
She added: "I was worried about whether I was going to be the person I had always been. I was also concerned with any thought of lacking independence. That was and still is very scary to think about."
After a career in teaching and working as a head of English, she became particularly concerned about losing her ability to read.
She said: "Reading has been my life and the idea of not being able to read as much as I want to, and the idea of being cut off from reading was very difficult for me, almost unbearable, too scary to think about.
"It's easy to start frightening yourself with 'what if' scenarios. I became very panicky and I found myself almost going down a wormhole."
She praised both her husband and son for their support during this time, recognising her good fortune that she's able to speak to them so openly about her condition.
"I have been very lucky, my husband is a huge support," she said.
"I have a son, although he's in London, we speak a lot and we see each other a lot, and he is a huge support too.
"I remember once saying, I'd like to die before I lose my eyesight. And they both just said, and what about us? We love you. What about all the people who love you? All of your friends.
"It made me think, 'come on, get over yourself. You've had a very good life and a very blessed life, and this is one of those challenges that life can present us with.'
"I've had to try and stop thinking of just myself. It's not only me living in the world. You have to try and remain connected and appreciate what you've got. You need to enjoy your life as much as you can."
Fortunately Geraldine found the Macular Society online and was able to seek support, to stop her thoughts from spiralling.
Firstly, she reached out to the counselling service after experiencing "extraordinary anxiety" and suddenly feeling in a constant state of panic.
She said: "I think when you're in a panic situation or a deep anxiety, even the idea that there is somebody whose voice you will hear at a specific time every week that is something that you just hang onto. If all else is failing, I'm going to speak to that person at 10am on Thursday morning. At first it was like an anchor to hang onto.
"Then after a couple of weeks, through our conversations and the techniques we spoke about, I did sort of get a grip again and found it immensely helpful.
"That doesn't mean that you don't ever have days of feeling bleak or you don't let your imagination run away with you."
Geraldine said she found something as basic as breathing helped her, as well as focusing on the facts and thinking about what is happening today, not what might be happening six months down the line.
She has also now joined her local support group in Londonderry which she has been a huge help, despite her initial reservations about going along.
She said: "The first couple of years, because there was so much happening in my life and there were so many things to overcome at that point, particularly with my brother, I was a bit scared to attend a group.
"I was actually a bit scared of seeing all these people who had sight loss, everyone sitting around thinking, we're all going to be blind aren't we? I thought it was going to be dreadful. So I was quite scared.
"But then a very nice lady from the group had been given my name and she rang me and encouraged me to come along.
"During Covid we were doing phone calls, but I got hooked into it at that point."
If you are struggling to come to terms with a diagnosis of macular disease, the Macular Society is here to support you.
Our friendly Helpline team can answer your questions, or put you in touch with our range of free services. Contact the team today on 0300 3030 111 or help@macularsociety.org