Talking about your diagnosis
Posted: Wednesday 04 October 2023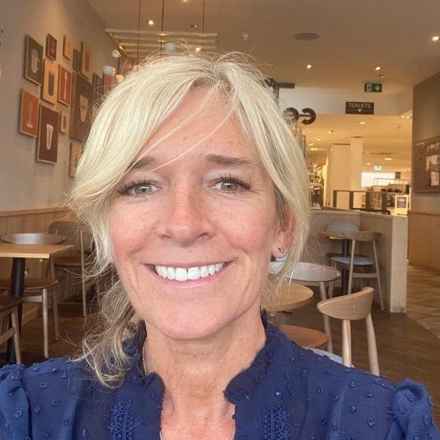 "When it comes to talking about our feelings, some of us will be more comfortable than others in doing this. Yet, when we do feel listened to and when we feel understood, it can mean a huge amount."
A diagnosis of macular disease can be overwhelming, impacting various aspects of your life. Despite this, many people struggle to speak openly about what they are going through.
At our annual conference Suzanne Roberts, head of the Macular Society counselling service, shared her advice on how to talk more openly about your diagnosis.
"What's the point of me talking about my eyes, it's not going  to change anything?"
"No, it's not going to change the diagnosis," said Suzanne. "But it might help to shift your perspective on your circumstances, and it might help to make you feel more confident, in control and perhaps less overwhelmed."
Initiating conversations about macular disease can be challenging, especially when you're not sure how others will react but Suzanne insists it can help.
"I find it hard to talk to friends and family"
A diagnosis of macular disease can have a profound impact on your mental health, but it can also impact the dynamics of your relationships with both friends and family.
Suzanne said: "Adjusting to sight loss can be a steep learning curve for the person themselves and also those around them.
"The person with macular disease may feel at times quite angry, quite frustrated. The people around them may feel some of this too.
"Often, a diagnosis will bring about a change that wasn't envisaged, as can also be the case when there's been a dip in vision."
While some people may not be ready to discuss their diagnosis, others can find the conversations helpful, especially clearing up any confusion around assumptions that people make.
Suzanne highlighted that finding a way to talk to your loved ones can be a good way of explaining what support you may need or what you want to do independently.
She said: "You may feel less alone with some of the challenges that you face. You could feel stronger and more empowered. And if you choose, it could be the start of a much bigger conversation."
"My family and friends are too busy, they have enough problems of their own"
Suzanne said she often hears people say, 'my friends, my family, they're too busy, they have enough problems of their own and I don't want to burden them'.
But Suzanne said our lives are always busy but it's important to make time to have this conversation. She said: "Generally if you ask someone what a friend or a family member would say if you said that you'd been struggling for some time, normally the answer would 'why haven't you told me sooner?' So people will always be busy and sometimes it is a case of making time for that conversation."
"Not everyone is ready to talk about their diagnosis"
Suzanne said another factor which prevents people from telling their friends or family is a fear they will see them differently.
She said: "For many people there are and will be barriers to talking about how you're feeling. And these come up on a regular basis with our counselling clients."
Suzanne said some people don't want to feel vulnerable and others may feel that speaking about their eyes or how they're coping may make it too real. They may just not be ready.
"We must suspect that everybody has their own individual way of coping and what works for them. There's also the case of timing."
Diane, who was diagnosed with wet age-related macular degeneration (AMD) three months ago, and joined Suzanne to discuss her own personal experience, reiterated the importance of timing when it comes to talking about a diagnosis.
She said: "Yes, there are lots of gadgets out there that can help but what you don't realise is it takes its toll on your mental health. I reached out to the Macular Society and after several chats I've realised that it would be better if I shared my story with my family and my friends, which is always difficult to do when you're quite a private person and you find it difficult  to talk.
"The timing was very important, you can't just blurt these things out. A lot of people don't really know how to help you."
Diane also shared the embarrassment she felt when she was first diagnosed.
Advice to friends and family – "Sometimes it's enough just to be there"
Adding her advice to family of someone who is living with macular disease, Suzanne said: "Sometimes it's a case of just listening and perhaps reinforcing that you're in this together.
"Because often when we're thrown into a situation which is considered the unknown, such as a diagnosis of macular disease. We can go into action mode that could be the person themselves or it could also be the family or the friends and this can be very helpful, doing research, finding gadgets. But sometimes it might be enough for you just to be there."