'A cure in George's lifetime would mean everything'
Posted: Monday 21 December 2020 at 10:00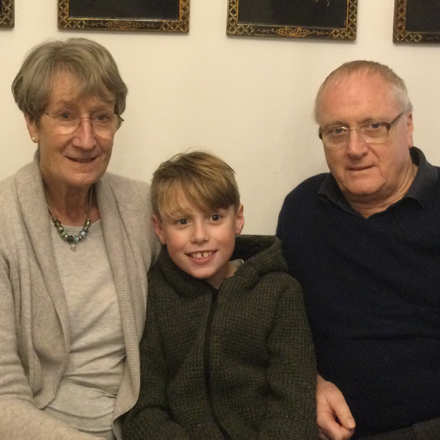 "I remember how we felt when George was diagnosed, we were absolutely devastated, because you start thinking about a 6-year-old boy, and the fact that he'd lost quite a lot of sight so quickly. It was just beyond comprehension. Then you start thinking about a child having to go through life, possibly blind, because it's not going to get better, we know that."

George was diagnosed with Stargardt disease last year at just six years old. His diagnosis has affected his entire family. His nana Janet has shared how she felt when he was diagnosed and the impact it has had on her and her husband.
Janet said: "We worried about how his life would pan out, what he'll have to deal with. And life won't be the same for him, as it is for other kids of his age, because he'll never drive. There will be lots of things he'll never be able to do, which, in the fullness of his life, we would've expected that he would do.
"In my house, you would hardly know, there was anything wrong. When George and his sister were born, we bought swings for our garden. And I just thank God that we did. They have been the best thing we ever bought. You would never know that there were any problems at all, when they're on those swings.
"I want him to have happy memories of his childhood. Things have changed, obviously, this year, so they may not be the flashy, faraway things, but there's plenty around here. I just hope that the time that they're with me, and my husband, that the memories that we're giving them, albeit only down the local woods, climbing a tree, or playing in the stream, are the things that I want him to have. Just normal things.
"When I think about it, I think thank goodness he's seen the sea, thank goodness he knows what a tree is. If you were blind from birth, you don't know those things. But he does. He will forget, and the memories will diminish, I know that, but, at the moment, he's still got strong memories of what's around him.
"We don't hold out too many hopes for him in his lifetime, but we know there is a chance that George's sight could be saved, if there is more funding for research.
"If there was the possibility of a cure in George's lifetime it would mean everything, if the cure was just to give him back some sight, It would mean everything."