'If we don't fundraise, we're never going to get anywhere'
Posted: Tuesday 20 April 2021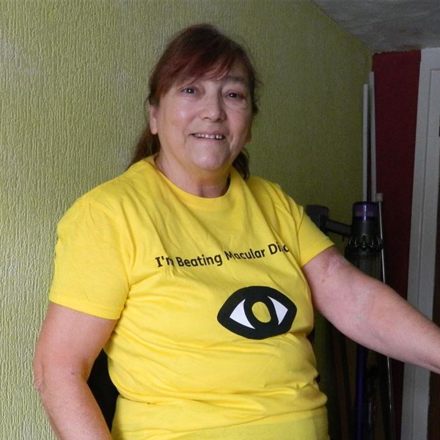 As travelling across the world has been out of the question for everyone this year, Julia Mills has found an alternative way to get to her destination of choice.
The 70-year-old has signed up to the Macular Society's Step Around the World Challenge and has chosen to cycle the equivalent distance from London to Havana, Cuba.

Julia, who was diagnosed with diabetic macular oedema (DMO) in 2011, will be cycling the 4,549 miles between the two capital cities on the exercise bike her husband bought her last year.
Her motivation to fundraise for the Macular Society has not been for herself, but for others affected - particularly children.
She says: "My condition is probably never going to be cured. But, my thoughts are with the children who have these horrible eye complaints. I mean, it's dreadful. Because, let's face it, a lot of us now that have got it have had a life. We've seen things, done things, and everything else. But these children, they need help. And hopefully we can find a cure for them."
Julia started her challenge in February and averages between 40 to 60 miles a day. While cycling she likes to watch films and so far has got through several Alfred Hitchcock thrillers.
She says: "The films don't affect my cycling - I try to keep at a steady speed, so I know that I'll do my daily mileage."
"I get off my bike looking like I've been on a horse for a week, or something like that but that soon goes."
Encouraging others to take part in the Society's Step Around the World Challenge Julia says: "You're helping everybody. It's not just for you. It's for everybody. If we don't fundraise, we're never going to get anywhere, are we?"
If you would like to support Julia's efforts by making a donation, you can do so at: https://www.justgiving.com/fundraising/julia-mills7. Or, if you want to take part in your own challenge, find out how to get involved in the Society's Step Around the World Challenge.