Step Around the World (...from home)
Step out to Beat Macular Disease with a step challenge to suit you, in your own time and at your own pace.
Start your Step Around the World challenge in 3 easy steps:
Step 1: Choose your challenge
Choose a distance and timescale that works for you! How about: a 5-10k local route, 10,000 steps a day in May, or get together with friends and complete the ultimate Step Around the World (52 million steps)?  
Fill in our short registration form, so we have all the details we need to support your challenge and so we can send you your FREE fundraising pack, including your Step Around the World passport.
The pages are easy to set up, a great way to share your challenge with family and friends and the funds come directly to the Macular Society.  Just follow this link to the Step Around the World JustGiving page and then select 'Start fundraising' and you'll be set up in no time. 
As soon as you receive your first donation on your fundraising page, we'll send you a FREE charity t-shirt. Raise £250 and we'll also send you a  medal!
Lisa Fisher completed her own Step Around the World challenge by notching up 100km through her regular runs around Torbay.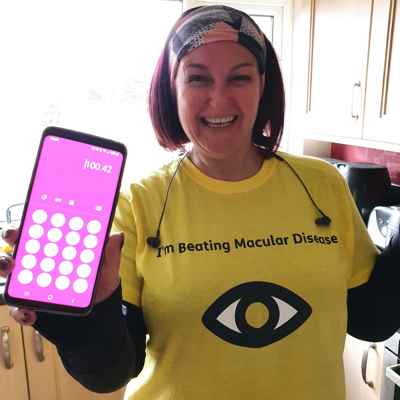 "My Mum has macular degeneration so I have grown up knowing about it. I know the difficulties she has, and I just wanted to raise awareness of this condition. I hope my fundraising can go towards all the wonderful work you do."