Step Around the World (...from home)
Step out to Beat Macular Disease with a step challenge to suit you in your own time and at your own pace.
Your 'Step Around the World (…from home)' challenge is really simple to do. And for every step you're sponsored for, together we're moving a step closer to Beating Macular Disease.
"Travel" wherever and whenever you choose to complete your step challenge. For reference 1 mile = approximately 2,112 steps.
You could "travel" somewhere you've always wanted to visit , or try:
Stonehenge walk – 2.6 miles (about 5,490 steps)
Fifth Avenue, NYC – 6.2 miles (about 13,094 steps)
Want to go a bit further, or complete a longer distance as a team? You could try:
London to Paris – 292 miles (about 616,704 steps)
Land's End to John O'Groats – 874 miles (about 1.84 million steps)
Ultimate 'Step Around the World' (52 million steps!)
It's FREE to take part!
We've even got a Macular Society 'Passport' and stickers for you to log your step challenges!
Step in your local community, up and down the stairs in your house - or step around your garden if you have one. Whether you walk, run, cycle or dance to your "destination", your sponsored steps are Beating Macular Disease. Thank you!
Already taking part? Set up your fundraising page on JustGiving. Simply choose 'Start fundraising' on the JustGiving campaign and you'll be ready in no time!
£100 sponsorship will earn you a challenger's t-shirt
£250 sponsorship will earn you a challenger's medal!
Lisa Fisher completed her own Step Around the World (…from home) challenge by notching up 100km through her regular runs around Torbay.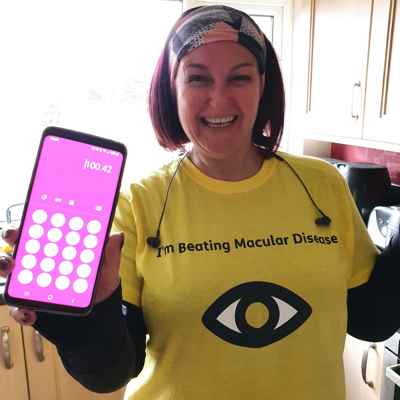 "My Mum has macular degeneration so I have grown up knowing about it. I know the difficulties she has, and I just wanted to raise awareness of this condition. I hope my fundraising can go towards all the wonderful work you do."