'He doesn't let this disease define him or stop him from living his dreams'
Posted: Tuesday 30 November 2021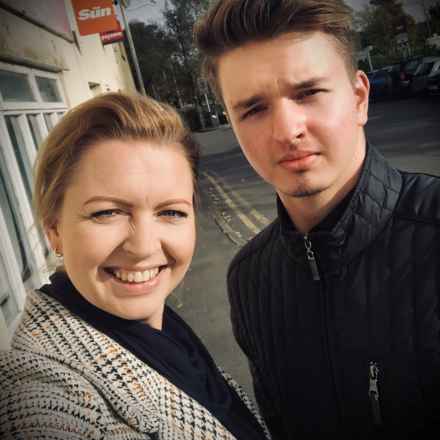 When Ave's son Andy was diagnosed with Stargardt she was initially relieved they had an answer for the struggles the 19-year-old was experiencing.
But, like many parents whose children receive a diagnosis, her relief was short-lived.
"Guilt soon set in for me for having given my son a genetic condition, without suffering myself. I was just a carrier," she said.
"I also began to worry, wondering what kind of life he would be able to have as a teen and thereafter."
Although Andy was coping well on a day-to-day basis Ave's concerns did not ease.
She said: "It is only natural to worry about the things he will have to miss out on and how this will have an impact on him.
"The simple fact that he will not be able to drive with his vision as it is, is a real shame. And of course, there will be certain professions that will exclude him."
But since his diagnosis Ave said Andy has remained positive and focused on the things he can still do and is hoping to become a personal trainer.
She said: "He has been an absolute star, taking each day as it comes and focusing on his strengths and not on the things he is missing out on.
"It is very encouraging for me to see how he does not let this disease define him or stop him from living his dreams."
Ave is now focused on raising awareness of Stargardt and by sharing her son's experiences hopes to improve the experience of diagnosis for others.
"Sharing my son's experience is important as many optometrists are still very unaware of Stargardt and would benefit from extra training into how to spot the early signs of macular conditions. One of the optometrists we saw even suggested Andy was pretending not to see when the glasses made no difference.
She added: "It's important to raise awareness by sharing stories to give hope to other youngsters out there recently diagnosed that life can continue to be relatively normal, with some adjustments."
Ave also highlighted the importance of medical research: "We do keep an eye on all the ongoing research and really hope one day, there will be a cure, or at least something that stops this from getting worse for Andy and others. I hope for something that will enable him to engage in activities most of us take for granted, such as driving.
"Thank you to the Macular Society for being the voice and thank you to all the members and people who have donated to make the all-important research a reality."
For the latest on research into Stargardt, watch our Virtual Clinic with Professor Andrew Lotery.