Professional bodies strengthen campaign to improve eye care services
Posted: Friday 29 April 2022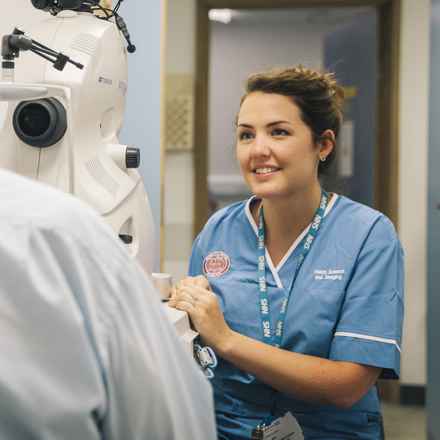 A coalition of organisations committed to raising awareness of sight loss and improving care for people with deteriorating eye conditions has welcomed two professional bodies to its ranks.  
The Association of Optometrists (AOP) and the Royal College of Ophthalmologists (RCOphth) have joined The Eyes Have It Partnership, which is calling on the Government and NHS to prioritise eye health and improve services for people living with sight loss.
The Eyes Have It was launched in July last year by the Macular Society, Fight for Sight and  pharmaceutical company Roche Products.
The group has drawn up a series of recommendations to help improve the lives of people living with deteriorating eye health, including the appointment of a national clinical director for eye care, the development of a national strategy for eye care to reduce pressure on hospital eye services, and guidance to enable direct referral from community optometry to hospital NHS services.
Professor Bernie Chang, president at the RCOphth, said: "We have been impressed by the work carried out by The Eyes Have It partnership in raising political awareness of issues relating to sight loss and eye care, and we want to further bolster that work.
"To support better, more timely treatment for those living with sight loss, it is vital that we have proper investment in the eye care workforce and infrastructure across the whole patient pathway."
Since the partnership launched a series of events have been hosted in Westminster, calling on the Government to take more action to address capacity issues and improve access for patients.
The first event was the Westminster Eye Health Day in October 2021, which welcomed more than 50MPs and will be repeated in November this year.
Read more about the previous Westminster Eye Health Day event.