Entertaining calls to light up dark winter nights
Posted: Thursday 22 December 2022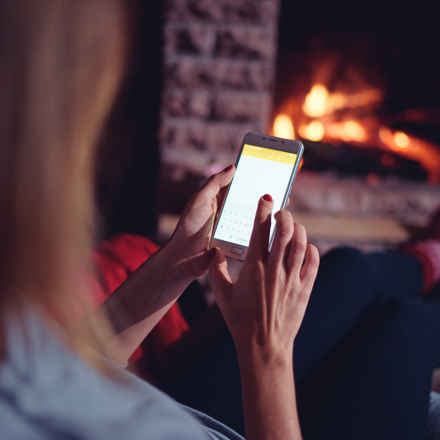 From diving into the history of British broadcasting, to finding out about the life and times of a society hostess and philanthropist, there's plenty up for discussion with our Winter Warmer calls.
These weekly calls continue into the new year, with eight scheduled until the end of February.
The Winter Warmers calls, which started in November, are free to join and each is an hour-long featuring light-hearted discussions and entertainment from people from many walks of life.
The calls take place every Wednesday from 6-7pm. Speakers provide around 30 to 40 minutes of entertainment, with a chance for the audience to ask questions at the end.
Maria Storesund, head of regions at the Macular Society, said: "The team was thrilled to be able to put our third Winter Warmers schedule together, following the success of recent years. Once again, they've been very popular and have proved a wonderful way to connect people at this time of year, no matter where they live across the UK.
"Whether we hear from history experts, people from the media or musicians, the calls are always fun and interactive, and that's exactly what people need. People's feedback has been heartwarming, they really enjoy the calls and we think our members will be fascinated with the second half of the schedule in January and February."
For more information about the calls, please contact the regional services team on 01264 560 259 or your local regional manager.
Alternatively, book onto a call by emailing winterwarmers@macularsociety.org including details of your name, contact details and preferred booking date, and a member of the team will confirm your space. 
The 2023 Winter Warmers schedule*
4 January
Actor – secret special guest
11 January
Black Country Living Museum – Sugar, Plums, and Sherbet
18 January
1950s nostalgia with Philip Bowen
25 January
History of the BBC with Dave Andrews
1 February
The story of Maggie Greville and the Polesden Lacey estate
8 February
Roger Parkinson from the Woodland Trust
15 February
Roy Turnman – A blind sportsman and singer songwriter
22 February
John Byrne – Chelsea Pensioner
*Schedule subject to change in case of any unforeseen circumstances