"I didn't know how many people were like me"
Posted: Wednesday 21 December 2022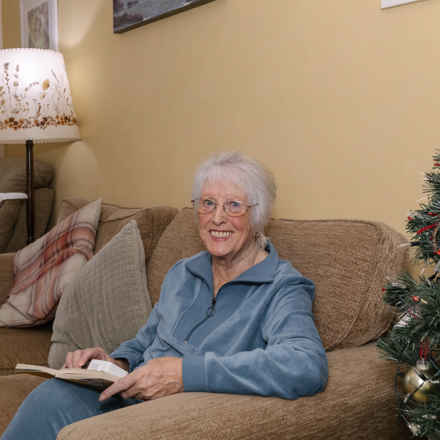 Like many others who are diagnosed with macular disease, Margaret had no idea what the condition was and how many others were affected. After experiencing the fear and isolation of her condition first hand, the 79-year-old wanted to help others in need of support. 
In June, Margaret set up the Solva and St David's Macular Society Support Group, which currently welcomes 12 people with a sight loss condition, alongside their friends or family.
It was simply "to help other people," Margaret explained.
She said: "I found it so difficult to cope with in the beginning, even with the support from my great husband, Tony. Macular disease is a big issue and it's dilapidating mentally. I didn't know enough about it before and without finding the Macular Society, I didn't know how many people were like me."
It was only after discovering the Macular Society online that Margaret began to understand more about age-related macular degeneration (AMD). 
Margaret said: "When I was diagnosed there wasn't much information, which is why I contacted the Macular Society. It was scary, very isolating even though I have a husband who is excellent to me. It's a huge thing in your life and I needed to find out more about it. I lost a lot of my independence but through joining the Society and reading the newsletters it made me realise there are a lot more people with this, and they must feel or have felt like I did.
"When I read there were 300 new diagnoses every day in the UK, I realised this is a big problem in life. I had never heard of it before and that's why I wanted to start a group – to help others going through it."
Margaret, a rugby fan who has lived in Wales all her life, had previously volunteered with a local charity, Solva Care, where she spent time with disabled people. Through the organisation she has been able to get financial help in running the local Macular Society support group, which meets fortnightly.
"It has made a huge difference," she said. "I know most people are elderly, but they are so relieved to know and understand macular disease. They know they are not alone and that's a big thing. They get upset about their hospital experiences, so that's why I bring in speakers to talk about it all, from what to expect from injections and organising hospital visits, among other topics.
"I can see the satisfaction and gratitude from people who were so unaware of what was available to them after they were diagnosed. Some have dry AMD and some have injections for wet AMD, but they all find the research news so encouraging and having different speakers come in to explain things has made the biggest impact."
As the Solva and St David's Macular Support Group continues to grow, Margaret has encouraged others to volunteer where they can.
"If you are able to help and to join the Macular Society that is so important to encourage others. It makes such a difference to so many people," she said.
Volunteer with the Macular Society
We have a number of volunteer roles such as group leaders and befrienders, to support anyone affected by macular disease in the UK.
Find out how you can volunteer with the Macular Society.
Our services in Wales are generously funded by The National Lottery Community Fund.