New study could help identify AMD before sight loss occurs
Posted: Wednesday 12 January 2022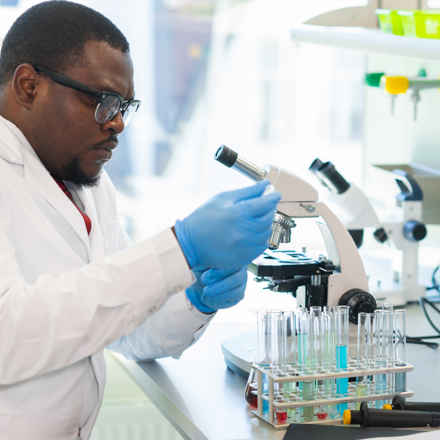 A new study could help to prevent sight loss, by identifying those at risk of developing age-related macular degeneration (AMD) before visual symptoms develop.
Researchers at the University of Southampton, King's College London and Moorfields Eye Hospital have found that signs of AMD can set in earlier than previously thought.
The findings open the door for research into earlier treatment that could help slow down the onset of the condition.

Scientists looked at the records of over 30,000 patients who had retinal scans and genetic data stored in the UK Biobank. There are 34 known genetic risk factors for AMD and the scientists were able to compare the retinal measurements of those with the risk factors to those without.

The findings highlight those with healthy eyes and no history of AMD had thinner retinas if they carried genes that put them at risk of the disease.
As current treatments for AMD only start when patients experience problems with their sight, authors believe these findings could help catch the condition at an earlier stage.
In comments about the study, the authors said: "These results help us understand the very early stages of the disease, before it is clinically apparent. If we can intervene at an earlier stage, we are more likely to be able to preserve sight,"

Previous research has not fully explained which cells in the eye are affected by AMD first. Further examination of the retinal scans in biobank showed that the photoreceptors, which sense light in the eyes, were also thinner for patients with the genetic risk factors. The research team said this gives them further understanding of the early stages and will help identify which cells should be targeted in further research.
Professor of ophthalmology at the University of Southampton, Andrew Lotery, said lifestyle advice could also be acted upon before sight loss occurred, adding: "Changing to a Mediterranean style diet, exercising more and stopping smoking can help prevent the progression of the disease."
Geraldine Hoad, Research Manager at the Macular Society, added: "This study is a good example of the use of the UK Biobank data and the link between genetics and risk of developing AMD. Every piece of research like this furthers our understanding of the condition and will lead to better treatment and management of the disease."
The UK Biobank is a large-scale biomedical database and research resource that is enabling new scientific discoveries to be made that improve public health. It provides researchers with access to medical and genetic data from half a million volunteer participants to improve understanding of the prevention, diagnosis and treatment of a wide range of serious and life-threatening illnesses.
To find out more about current research into macular disease, find out more about the projects we're funding.