'She longed for the day that research would find a cure for this dreadful disease'
Posted: Tuesday 11 January 2022 at 10:54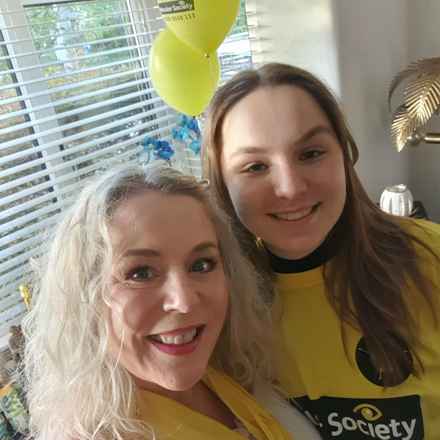 When she was diagnosed age-related macular degeneration (AMD) 16 years ago, Pauline Mason hit the ground running. As well as running the Leeds Macular Society Support Group, Pauline volunteered for the Society, and put herself forward to take part in research.
And even after her sudden sad passing last year, Pauline has continued to inspire her family to raise vital funds in her memory.
Pauline's daughter Jenny Mason-Briggs and her daughter organised a pamper evening at home which has helped raise more than £1,400 towards research.
Jenny said: "I can't even tell you how much this would have meant to my mum and how much she longed for the day that research would find a cure for this dreadful disease."
Pauline had helped to organise a garden party with family and friends in the summer, where she was going to talk about the Society and raise awareness of her condition. Unfortunately the event had to be cancelled after Pauline fell ill.
Jenny said: "Mum was always keen to raise as much funding as possible. When she passed it was overwhelming, but I still wanted to do something and instead we did something in memory of Mum. She really loved being involved in anything that she felt could help with understanding the disease better."
Jenny described her mum's attitude as 'stoic', but said the condition had a huge impact on her life.
"Within two years she went from being able to drive, lead a relatively normal life to having to stop driving, which was the biggest wrench of all," she said. "She couldn't recognise faces anymore and 'isolated' was one of the words she used quite a lot."
She added: "She became really accepting of it and worked really hard to be. Being very open about it and her white cane helped with that. After she got her cane people were more understanding and it gave her a new lease of life. She always talked about how kind people could be.
Jenny now plans to do what she can to raise awareness of macular disease and the need for more research funding.
She said: "The more research that's done, the less people will have to go through what my mum went through. To lose your sight is the most crushing thing you could go through. This doesn't just affect older people it's younger people too. Mum was such an advocate for this, she knew it could happen to anybody.
"You don't know how much the Macular Society do and how important it is until a member of your family is faced with the disease."
Thanks to people like Pauline, Jenny and her family, we are able to continue to fund groundbreaking research into macular disease.
If you'd like to organise a fundraising event in memory of a loved one, find out how.