Westminster debate highlights urgent need to improve eye care services
Posted: Wednesday 12 January 2022 at 14:59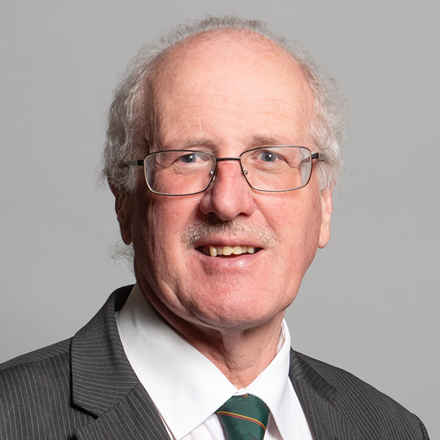 A debate in Westminster this week has highlighted the need to improve eye services in the UK and stop people from needlessly losing their sight.
The event focussed on the pressures faced by hospital ophthalmology services, which is now the busiest outpatient specialty in the NHS, with 7.9 million attendances in 2019/20.
This demand is putting pressure on services and leading to long waiting times.
Jim Shannon, Democratic Unionist Party spokesperson for Health and Social Care secured the Westminster Hall debate following problems with delays for patients with age-related macular degeneration (AMD) in his own constituency. He said the COVID-19 pandemic had only exacerbated issues and that it was 'vital' to tackle the capacity crisis.
Talking to MPs he said: "Sight loss is widespread, and its implications are significant for the NHS, for the public purse, but most importantly for patients whose lives will be irrevocably altered by a diagnosis such as macular disease.
"Timely access to appropriate treatment can quite simply be the difference between someone losing their sight or keeping it. It is therefore vital that we do all we can to ensure every patient can get the treatment they need, when they need it."
The event followed the Westminster Eye Health Day in October and was the next in a series of activity to promote and champion eye health amongst Parliamentarians and policy makers. It was organised as part of The Eyes Have It, a partnership of Roche, the Macular Society and Fight for Sight.
Several Parliamentarians spoke at the event to raise issues in their constituencies with access to eye care services. This included Lia Nici, MP for Great Grimsby, who shared her own personal experience of living with macular disease after being diagnosed 20 years ago. She was also keen to highlight the importance of regular sight checks.
She said: "It's going to your optician regularly which actually spots these issues and, in particular with the retina, speed is of the ultimate importance. For me, I went to the optician because when I was reading I noticed that the lines of the page of the book had a dip in them."
Lia Nici praised her local ophthalmology team at Diana, Princess of Wales Hospital in Grimsby and talked how she received 11 injections to save her sight.
"If that treatment hadn't been available I would have been registered blind now," she said. "The effect of those injections meant my eyes improved five lines on the acuity test."

Jim Shannon welcomed the Government's plans to recruit a National Clinical Director for Eye Care, which were announced in November, but called on the minister for primary care and patient safety, Maria Caulfield, to appoint this role as a 'matter of urgency'.
He said: "hope that this role will provide much needed leadership, and drive forward the transformation of NHS eye care services, including improving integration, making better use of data, and building the workforce, which is essential to provide high quality care, which will in turn deliver better outcomes for patients."
Westminster Hall debates give MPs an opportunity to raise local or national issues and receive a response from a Government minister.
The Macular Society, alongside Roche and Fight for Sight, will be continuing discussions with Parliamentarians and policy makers to improve NHS eye care services and prevent avoidable sight loss.