Volunteers' Week 2022: 'If we met we'd be best friends'
Posted: Wednesday 01 June 2022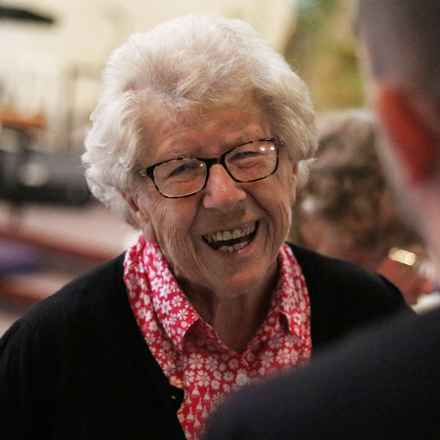 For Pauline (pictured), volunteering is about 'building people up', 'friendship' and 'helping others see the positives' after a diagnosis of macular disease.
She has been a telephone befriender for the Macular Society for three years and enjoys speaking to people from all walks of life.
"It's about friendship for me," said the 88-year-old from Winchester. "One of the women I speak to in Derby told me that if we met we'd be best friends, so that was a lovely thing."
"It's a lot of listening and interesting to hear about other people's lives - people do and have done such different things."
Pauline is one of many Macular Society volunteers, who play a vital role in beating macular disease. This week, we are highlighting the stories of just three of our dedicated volunteers to say a big 'thank you' as part of Volunteers' Week.
Our befriending volunteers provide regular, friendly phone calls to people living with macular disease. The service is designed to rebuild confidence and independence and aims to match befrienders and befriendees who share similar interests or experiences.
Talking about the role Pauline said: "People want to talk about their lives, how they're managing their day. You have a laugh about what you can and can't do, the frustrations as well. One lady has a very good sense of humour, so it's very positive.
"We talk about favourite books, what we've done in our lives and it's more conversational. You don't want to talk for an hour about your sight loss because it would get more depressing by the minute. For me, befriending is about building people up."
She added: "When you've been talking to someone for two years every 10 days or so, you're not really discussing the bad things, it's about the good things."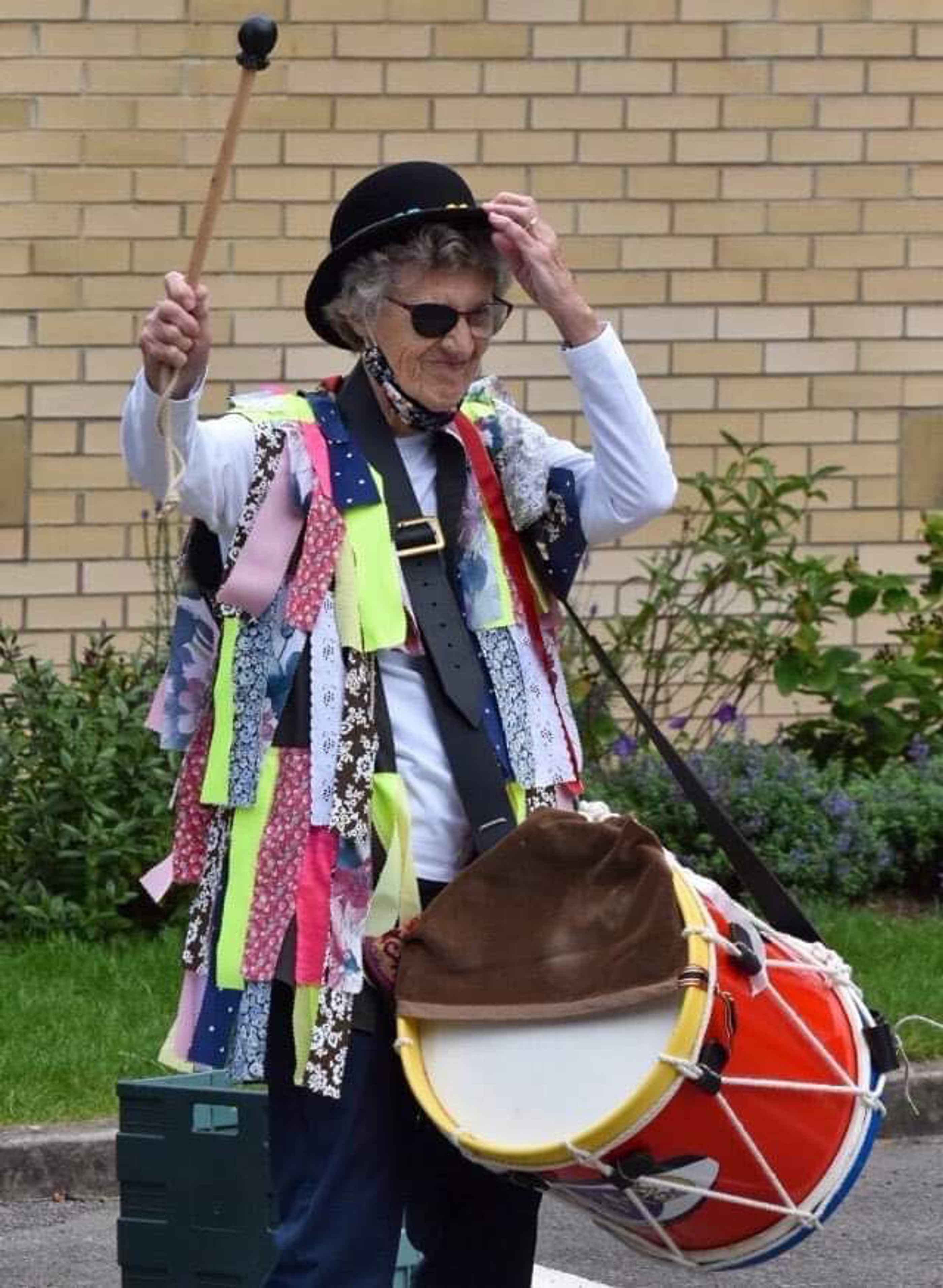 'It was a way of using my skills to help others going through the same problems'
Jean (pictured), from Malvern, was a regular befriender before needing more time to care for husband. The 79-year-old former headteacher spoke to her befriendees for over a year and found she was able to pass on help and support thanks to the information she received as a member of her own local Macular Society support group.

Jean, who regularly raises money for charity as part of her local SoXsighted Morris Dancers group, said: "The person I was on the phone to was also having her eye injections. She was rather worried about them and I was able to encourage her before she went in for her appointment. I think that was the main thing I able to do for her.
"That's the benefit of the support groups; people were able to explain, while they do sound horrific, actually they aren't as horrific as they sound! People were able to tell me how they aren't that bad and I was able to pass that on.
"I'm a caring person by nature. It was a way of using my skills to help other people who are going through the same problems."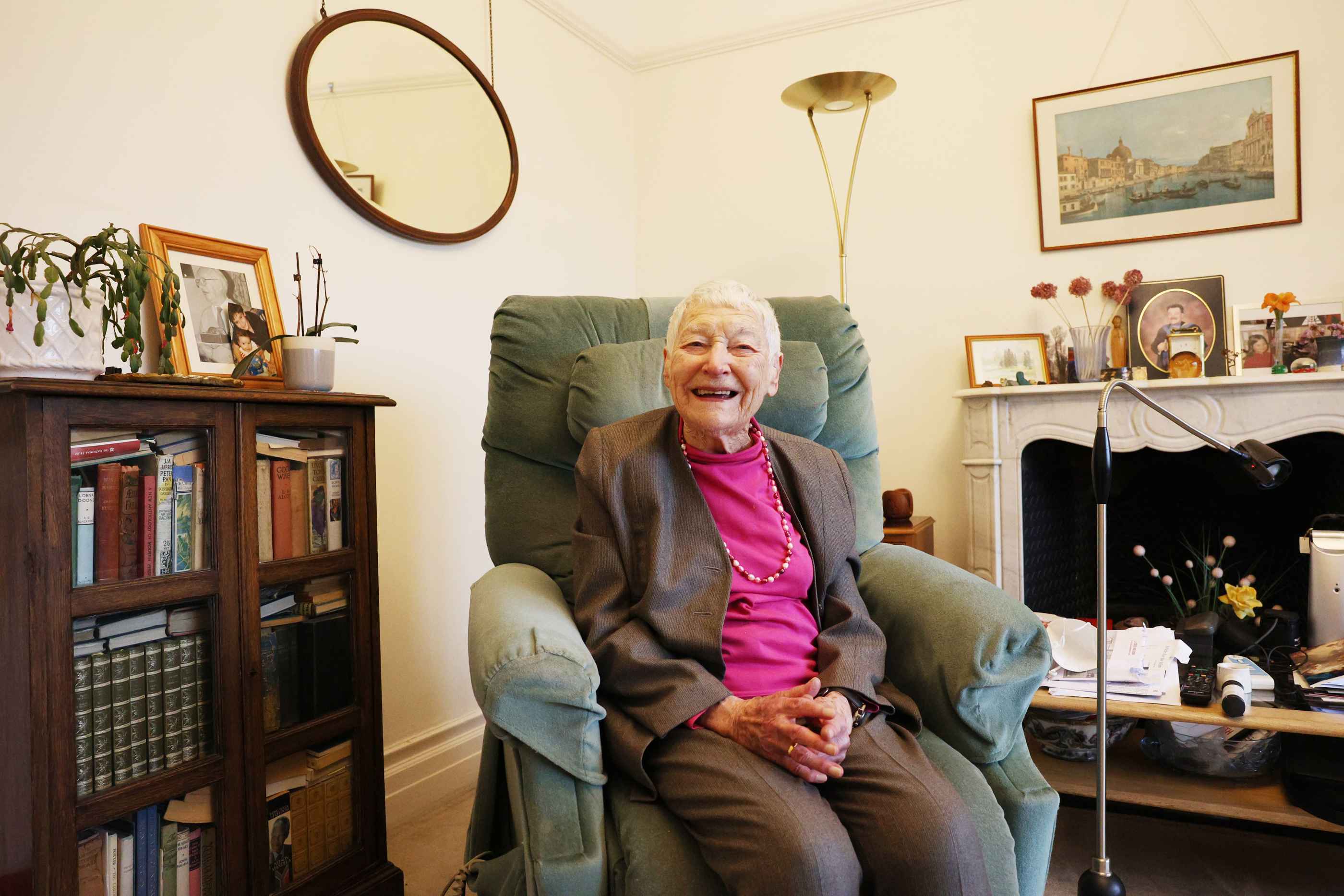 'Without the befriending service, it would be very depressing for so many people'
For 98-year-old Barbara Hogg (pictured: photo credit 'Facundo Arrizabagla, My London') becoming a volunteer for the Macular Society was a life-changing moment.
As well as being one of our fantastic befrienders, she is a Skills for Seeing trainer – teaching people to make best use of their remaining peripheral vision - and gives workshops to third-year students at the City University Optometry department in London.
But it was a difficult and emotional road for Barbara, who recalled: "I was feeling so very depressed. I had no relatives to look after me and I was living alone in my own home. It got to a stage where I wasn't ashamed to say I had suicidal thoughts. I simply couldn't see a way forward.
"But I went to a national conference held by the Macular Society and they were asking for volunteers. I felt I could do that having spoken to students much of my professional life."
As a result of her volunteering, Barbara's been told she "has been a tremendous help for the confidence of others. "I know it's made such a difference to their life and I'm someone they can hold on to, someone to speak to when they are at their lowest," she said, "People are very thankful and I think for people suffering they have some safety, there's someone they can talk to. It's such a useful service," she said.
"If it didn't exist it would be very depressing for so many people," Barbara added, but she has no plans to step away from volunteering any time soon!
Volunteers' Week, which takes place from 1 to 7 June, is a celebration of the people who give up their time to help others. From fundraising volunteers to telephone befrienders and Macular Society group leaders, there are many ways people are helping to Beat Macular Disease.
All of our volunteers are helping to Beat Macular Disease every single day. We couldn't do it without them.

Become a volunteer

If you would like to volunteer as a befriender or to be matched with one, visit our Befriending page or call us on 0300 3030 111 to find out more about the service.

If you are interested in volunteering, take a look at the different roles available or contact the volunteering team on 01264 326 622.