Drug trial for dry AMD slows progression of disease
Posted: Tuesday 29 March 2022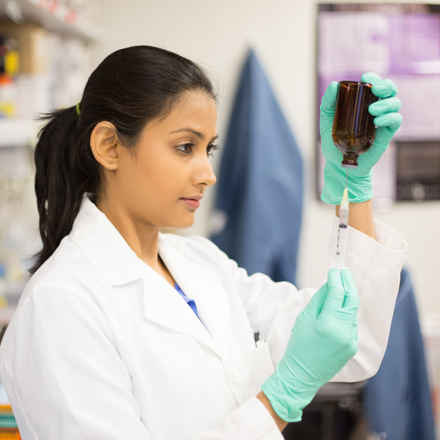 A drug being trialled for dry age-related macular degeneration (AMD) can significantly reduce the progression of the disease, according to new studies.
Phase three trials have shown that injections of a drug called pegcetacoplan resulted in a significant reduction in the rate at which the cells of the macular degenerate.
The studies by Apellis Pharmaceuticals built on previous research which showed that dry AMD is linked to the complement system and a hyperactive immune response that damages the eyes. Pegcetacoplan is a complement system inhibitor, meaning it aims to prevent this response from happening and harming healthy cells and tissue.
The studies involved two phase three clinical trials (DERBY and OAKS) involving more than 1,250 patients with late stage dry AMD, often referred to as geographic atrophy (GA). As part of the trials some patients received injections monthly, while others received them every other month.   
In the combined results of the two trials, patients who received the drug monthly showed up to a 21% reduction in progression of the disease after 18 months, while those who were injected every other month had a 17% reduction.
Jeffrey S. Heier, principal investigator of the DERBY study from Ophthalmic Consultants of Boston, said: "It is exciting to see these positive data with pegcetacoplan, which showed continuous and potentially improving effects over time. These 18-month results provide further evidence that pegcetacoplan meaningfully slows disease progression and has the potential to preserve vision longer."
He added: "In my practice, I have seen how devastating it can be for people living with GA to lose more of their vision year after year. There is an urgent unmet need in GA, and these results reinforce the potential of pegcetacoplan to become the first-ever treatment for patients with this debilitating disease."
The study also found that pegcetacoplan was generally safe and well tolerated by those on the trial.
Results of the studies are to be submitted to the US Food and Drug Administration (FDA) for review by the end of June 2022, with the hope that the drug will be licenced for use in the USA.
Stay up to date with developments on this new drug and further progress in research by signing up to the Macular Society's enewsletter or follow the Macular Society on Facebook and Twitter.