Step Around the World challenge continues to fund vital macular research
Posted: Thursday 24 March 2022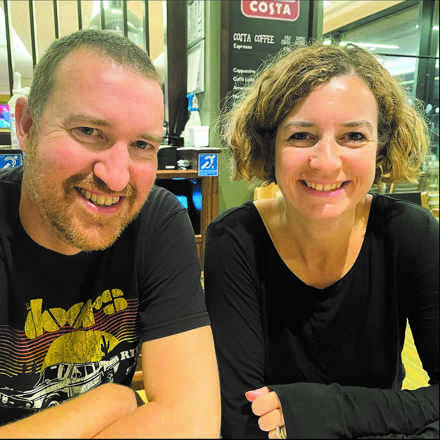 More than 100 people signed up to our Step Around the World (from home) challenge since it launched last year, raising thousands of pounds for vital research for people living with macular disease.
Chris Owen (pictured far left), who has cone dystrophy – a rare macular condition – was one of many who signed up to the challenge, completing the 100km Thames Path Challenge.
Alongside his sister Kathryn (pictured on the right, next to Chris), he completed the trek from Putney to Henley, raising £5,694 to fund research.
The remote step challenge means supporters can take part any time of the year, and in their own time. By walking, running, cycling or even dancing to your destination, anyone can take part to help Beat Macular Disease.
Talking about his 100km challenge, Chris said: "It was an amazing experience and I can't believe how much we managed to raise for this amazing charity dedicated to beating macular disease.
"Thanks also to my sister for being my guide over the two days, pointing out tree roots and overhanging branches as well as providing ongoing descriptions of scenery."
He also highlighted why funding research is so important, adding: "We can do so much with the front of the eye, whether it's glasses, contact lenses, lasers, replacing the lens, all of that stuff. But there's so much more we could do with the bit at the back of the eye, with the other piece of the jigsaw. That's why funding medical research to find cures is so important."
While Chris and his sister took on a more formal challenge, others have completed their steps virtually from home.
Find out more about the Step Around the World challenge. Or, visit our website for more ideas on how you can Beat Macular Disease.