"I've learned all the skills that I need to try and live independently"
Posted: Wednesday 20 September 2023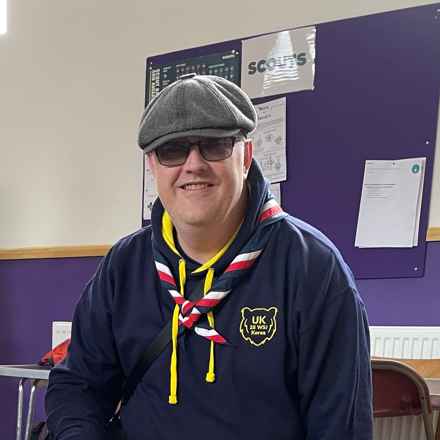 When Macular Society volunteer Nick suddenly found himself unable to make a simple cup of tea, he knew he needed help to rediscover an independent life with sight loss.
The 45-year-old was struggling with his mental health as tasks became harder and the father of four had lost a willingness to leave the house.
"I went into quite a deep depression where I just literally wouldn't leave the house - I wouldn't do anything," he said.
But Nick has come a long way after experiencing what he described as a "crisis" moment. Nick was home alone with his wife at work and children at school as he recalled wanting to make himself a cup of tea.
He said: "I could just about manage to do that, until I realised we had no milk. That just caused a real crisis for me, because I just couldn't even make myself a cup of tea anymore. I couldn't go out to buy milk and that's when I eventually reached out and asked for help."
Nick was diagnosed with his eye condition as a child but his vision wasn't affected until his 30s.
"I was frightened," he said. "I knew this was going to be with me for the rest of my life. How was I going to cope? When I first started to really lose my vision, I went through a lot of denial and I tried to carry on as normal but I couldn't. I was physically unable to do things.
"Because of the change in vision I was having more problems, more accidents and hurting myself."
However, Nick described the support he has received from various organisations as "the light at the end of the tunnel" as it has helped him develop a more positive mindset.
He said: "It was a light at the end of the tunnel. Suddenly I could see my way to actually beginning to do stuff again. To go back to the cup of tea problem, I was taught how to get to the local shops and I could go in independently, buy myself a pint of milk and that sort of thing. It led to me doing more useful things for the family, like actually doing the weekly shop and things like that. So, rather than feeling like a burden to my family, I actually began to feel like I was able to contribute and be a part of family life, and then from there, I could contribute to my community by helping others."
He added: "I've become capable of doing anything and everything I've wanted to do. I've learned all the skills that I need to try and live independently, work my way around things or whatever it is I need to do to live as normal a life as I can."
Among Nick's community work is his volunteering role as group leader of the local Macular Society support group in Brecon. He is also chairman of Visual Impairment Breconshire (VIB).
Nick explained: "For me, it's just the opportunity to help others who are on the same path that I was on; helping them understand that there is light at the end of the tunnel, that they can still do things that they want to do. They can still go out and be a part of things or be a part of their family in productive ways.
"Although we are visually impaired this might sound silly, but for some it's the physicality of seeing each other which makes all the difference. They actually help each other find the right bus so they travel to the meetings together. It's understanding that there are other people out there trying to do the same thing as themselves.
"Having that support group gives people an option, doesn't it? It's a reason for some of them to actually go out the house and do something that day.
"It's a real boost to my confidence and the knowledge that I'm able to go out there and do things and make a difference. The fact that I can make a positive difference, literally, using everything that I've been taught to live with sight loss and using that knowledge to help others to improve their lives and seeing the improvements is a real buzz for me."
Nick, who is also involved with the Cub Scouts, is proof of overcoming the fear of loneliness and isolation as he encourages others to embrace life with sight loss and find work where they can, including volunteering, to continue leading their everyday lives.
He said: "It's going to be hard, it's hard to find a job and you will be knocked back but you've just got to keep beavering away at the challenge and keep looking. Wherever you can, find voluntary work too because that helps your own self confidence as well as showing your willingness to work to any employers out there.
"Get as much extra knowledge as well, any advice and help that you can find is always useful. It's not even just advice but even just knowing how to get the right benefits. If you can't find the work it's knowing where you can get the financial support you're entitled to."