Telephone befrienders
Providing a friendly, listening ear to help reduce feelings of loneliness and isolation
A regular phone call seems simple, but it can make a difference to someone's sense of wellbeing and it may be one of the few times a week they speak to someone. Volunteer telephone befrienders are not counsellors, mentors or problem solvers; just good listeners who enjoy quality conversation.
Will it suit me?
If you are friendly, reliable and enjoy a good chat, then this role could be perfect for you. We match based on interests and preferences, so you don't need to have a macular condition or sight loss, just an understanding of its impact. Empathy and an understanding of the boundaries, signposting as appropriate, will help you provide the best support. Following the call, the volunteers send a short report back to the team to help evaluate and improve the service. We offer options to befriend more than one person if you wish to get more involved.
Time commitment
The calling is flexible. We recommend that you try and keep to the same day and time, but it's up to you and your befriendee to agree this on your first call. The length of the call will vary depending on both your circumstances but supporting one befriendee will typically take 30 to 60 minutes of your time once a week or fortnight.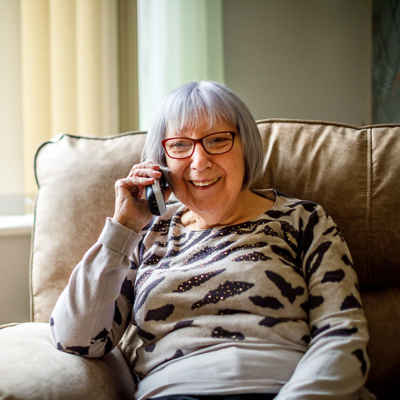 "I wanted to do some volunteering so I became a befriender. I was paired with two fantastic ladies, they do as much for me as I do for them. It makes me feel useful. I can't go out on my own anymore, I can't see the TV properly, I can't distinguish people's faces, but it helps me to think I'm doing something for them by being there to talk to."