Investigating how eye doctors discuss AMD with patients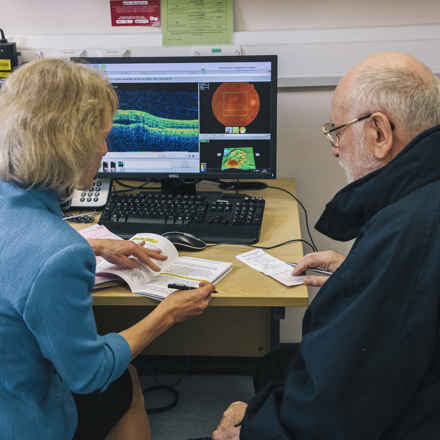 Dr Tamsin Callaghan, City, University of London - £77,731
Eye doctors are encouraged to mention the lifestyle changes that patients can make to slow the progression of dry age-related macular degeneration (AMD). This may not always be communicated, or followed. This project aims to improve this communication.
What is the problem?
When people with dry AMD are diagnosed, too often they are simply told there is no treatment and there is nothing that can be done. This can be disheartening to patients, and forgets about the things that may help slow the progression of disease. More needs to be done to ensure all patients are informed about the changes they can make that could help.
What are they doing?
The project aims to investigate the ways eye care professionals communicate, educate and support those with AMD. Determining the different ways the advice is communicated, and which ways may lead to patients changing their behaviour.
How can this help?
This project aims to use the information gained to help eye care professionals to improve the way they communicate advice on lifestyle changes. This could lead to more patients knowing and following the changes which can slow the progression of their dry AMD, allowing more sight to be maintained.