New form of gene editing for macular dystrophies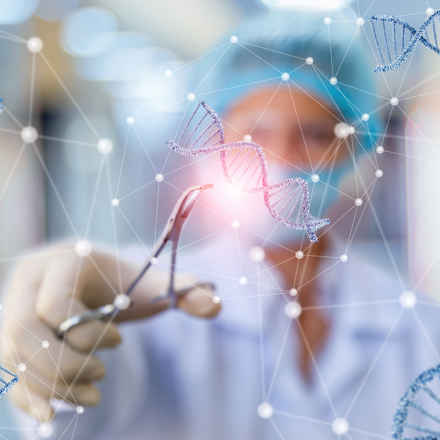 Dr Forbes Manson, University of Manchester - £99,672
This project aims to test whether a new form of gene editing could help those with a macular dystrophy. Current gene editing approaches are looking at fixing or changing a gene mutation, which is very fiddly and will only help a small proportion of patients with that specific mutation.

Most gene mutations that lead to macular dystrophies (MDs) cause the gene expression to be reduced, meaning less protein is made, or the protein made is less effective than it should be, both of which lead to disease. This new form of gene editing looks at increasing gene expression meaning more protein is produced. As this is not specific to a single mutation this can target a larger range of patients.
What is the problem?
MDs are caused by mutations in many different genes or different changes in a gene. This makes it difficult to create a gene therapy that is suitable for a wide patient group, as each gene therapy needs to be specific to one change in a gene. As these therapies are so specific and only applicable to a small number of patients, this can make the therapies very expensive. Therefore, we need a therapy that can be suitable for more patients, and adaptable to many conditions.
What are they doing?
This study uses a new type of gene editing called CRISPR-activation (CRISPR-a) which can increase the expression of a specific gene. The researchers will be testing this gene editing on two very common genes associated with MD, ABCA4 associated with Stargardt disease, and BEST1 associated with Best disease.
How can this help?
The project aims to investigate whether CRISPR-a could be used to create a therapy for MDs that is suitable for more patients. By targeting the reduced efficiency or expression of the gene instead of the specific mutation. This means that more patients may be able to benefit regardless of where the mutation is in the gene. As this is a new area of gene therapy, this project could also lead the way to further developments for gene editing.