Wrong place, wrong time: protein delivery and macular disease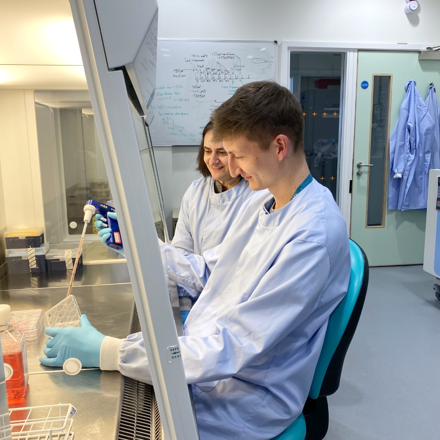 Dr Linda Troeberg, University of East Anglia - £99,573
Correct protein delivery is necessary for all cells to function efficiently and stay healthy. If proteins aren't delivered to the right place or in the right amounts, this can lead to cells not functioning properly. This work is focusing on a specific protein called TIMP-3, which is believed to be involved in AMD and Sorsby Fundus Dystrophy (SFD). By understanding how TIMP-3 is delivered around tissue when in healthy and mutated forms, we can better understand the mechanism of these two macular diseases.
What is the problem?
In previous work on osteoarthritis, Dr Troeberg found that incorrect delivery of TIMP-3 protein accelerates joint damage. She thinks that a similar problem occurs in AMD and SFD, with incorrect delivery of TIMP-3 and other proteins leading to drusen formation and progressive retinal damage.
What are they doing?
The researchers are aiming to grow retinal cells in the lab and watch how these cells deliver TIMP-3 to nearby tissues over time. This will then be compared to cells where the TIMP-3 gene has been altered, leading to a different form of the TIMP-3 protein, as is found in patients with SFD. They will also look at the differences in retinal cell behaviour, damage and drusen formation between the healthy form of TIMP-3 and the SFD mutated TIMP-3.
How can this help?
This work could identify new drug targets for both AMD and Sorsby Fundus Dystrophy. Drugs targeting the changes we expect to see in retinal cells are already in use for other diseases.
If TIMP-3 mutations are found to be involved in AMD, this could also enable the development of genetic tests to identify an increased risk of AMD, so people can be diagnosed and treated earlier.