Dry AMD patients respond to injection breakthrough studies
Posted: Friday 25 November 2022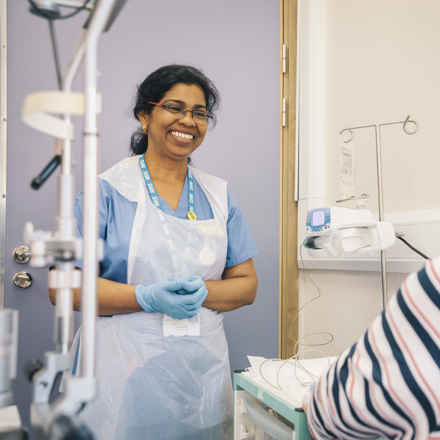 Initial findings have shown the majority of people with late-stage dry age-related macular degeneration (AMD) would welcome eye injections as a way of slowing down its progress.
The findings were explained at our November 2022 My Macular and Me webinar by Jamie Enoch, a research fellow and PhD student at City University of London. The study explored how a group of 30 patients with dry AMD really feels about the possibility of regular eye injections.
Results showed that 60% would have an injection. However, 27% of participants were unsure if they would want to have injections, and 13% felt they were unlikely to accept treatment if it were immediately available.
The study was prompted by the possibility that two drugs may be about to be approved for treatment of dry AMD, pegcetacoplan and Zimura.
Phase three trials (DERBY and OAKS) conducted by Apellis Pharmaceuticals have shown that injections of pegcetacoplan resulted in a significant reduction in the rate at which the cells of the macular degenerate.
Iveric Bio has also welcomed encouraging results from its phase three GATHER2 study of Zimura (avacincaptad pegol). It has also been shown to reduce the rate of progression of dry AMD in its late stages.
At the moment there is no form of treatment or management for people with dry AMD; unlike patients with wet AMD who have a range of drugs available.
Professor David Crabb, also of City University of London, and consultant ophthalmologist Christiana Dinah, joined Jamie on the webinar.
Professor Crabb acknowledged "we're actually on the precipice" of a first dry AMD therapy, while Christiana added: "We now have treatments which have got to the final stage of clinical trials and are being discussed about coming into the clinic. They have demonstrated unequivocally, very clearly, a better response of slowing down progression over time."
Of the positive feedback received during the study, one participant was quoted: "I might be worried about the needle but it's got to be done. Everything is falling apart."
The potential injections for dry AMD could slow down the rate of sight loss, but not halt the disease in its tracks or restore vision. With this in mind, Jamie reported one patient felt "it will not bring back the lost vision so I don't think I will benefit" adding some participants weren't keen to have injections because their sight remained okay at the time of the study. Jamie warned "the sooner someone starts on the treatment, it's more likely the outcomes will be better."
He said: "A majority of participants in our study were quite positive about treatment despite the burdens and drawbacks" adding "hopefully this knowledge of patient concern will allow our team to consider how these issues will be addressed if the treatments do get approved and rolled out."
A follow-up UK-wide study of 300 participants with dry AMD will follow in 2023.
Christina said: "What we aim to get from this is how many patients, or the proportion of patients, who find this treatment acceptable (and) what specific things would they like us to modify when we roll it out."
Watch the full webinar with Professor David Crabb, researcher Jamie Enoch and ophthalmologist Christina Dinah below.