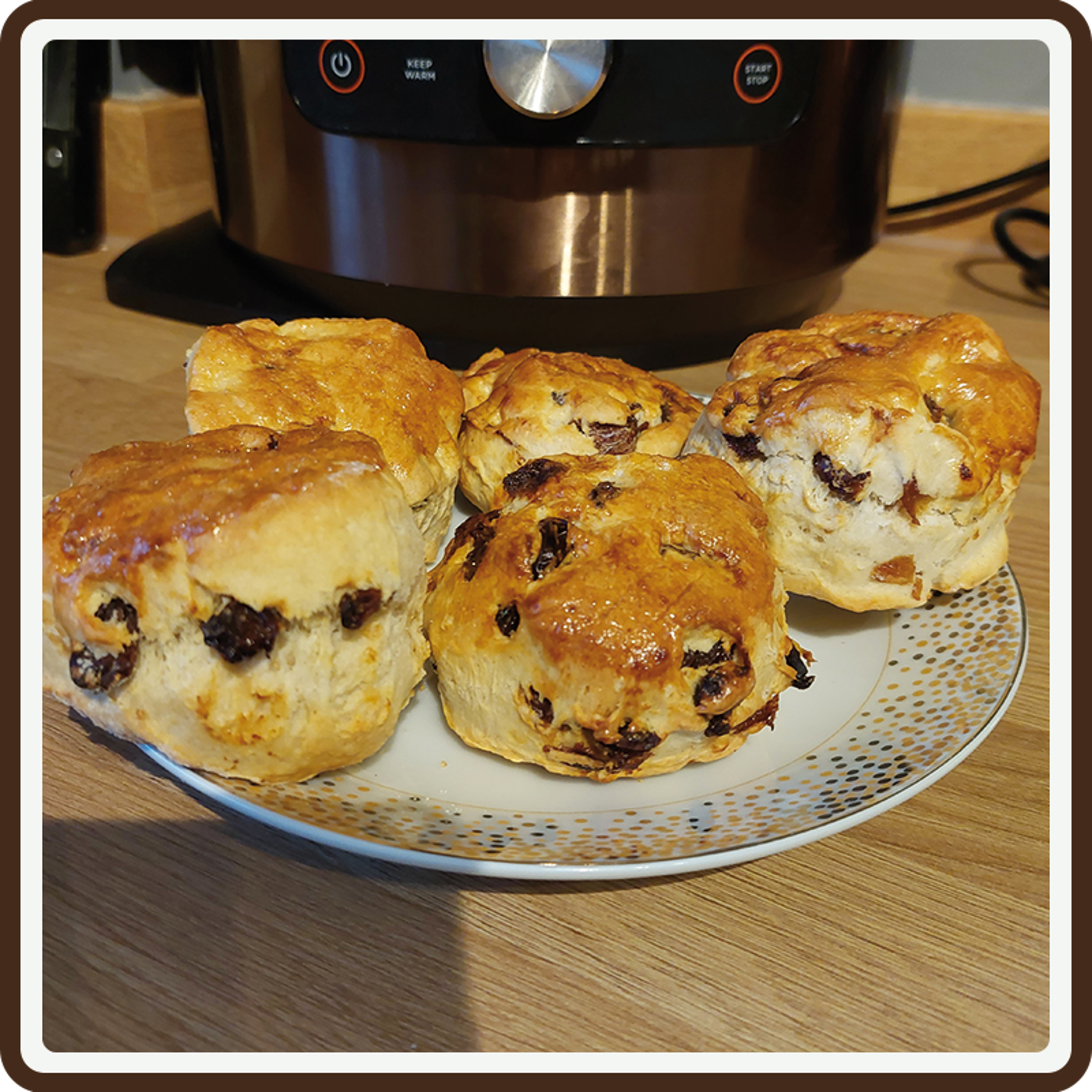 Sam's air fryer scones
If you have an air fryer, this is a great recipe to try.
Ingredients
450g self-raising flour
80g unsalted butter (from the fridge)
250 ml milk (semi or whole)
1/2 teaspoon salt
Egg or milk for glaze
Pinch of salt
Extra fruit or savoury flavours depending on preference (a handful of sultanas and a few pinches of cinnamon for example)
Method
Preheat the air fryer to 160°C for 5-7 minutes.
In a large bowl, rub cold butter and flour together with fingertips until it resembles breadcrumbs.
Add sugar/fruit/cheese/cinnamon/nutmeg/herbs etc. depending on the flavour you want to achieve, and mix.
Make a dip in the middle of the flour to add the milk and mix until it comes together, making sure all the flour is incorporated. The mix should be soft, but slowly stir in more milk if needed (not too much).
Lightly flour a clean dry surface and briefly knead the dough until smooth.
Roll out, roughly to 2.5 cm thick. Using a 5cm round biscuit/scone cutter, cut out scones and brush tops with milk or egg.
Place parchment paper into the bottom of the air fryer basket. Put the scones onto the paper, so they are almost touching and cook in batches.
Cook for approximately 13 minutes. Keep checking as they should be golden and, when tapped, you will hear a hollow sound.
Cooking times will vary depending on the make of air fryer – this recipe is based on using a Ninja 14-1.
Have you got your own baking recipe you'd like to share?
Please share your recipes with us by emailing community@macularsociety.org and don't forget to include some lovely photos!

Get the latest news and advice from the Macular Society
To hear about life-changing research, treatments and tips for living with sight loss, subscribe to our monthly enewsletter today. Together we can Beat Macular Disease.
Sign up to our free email newsletter