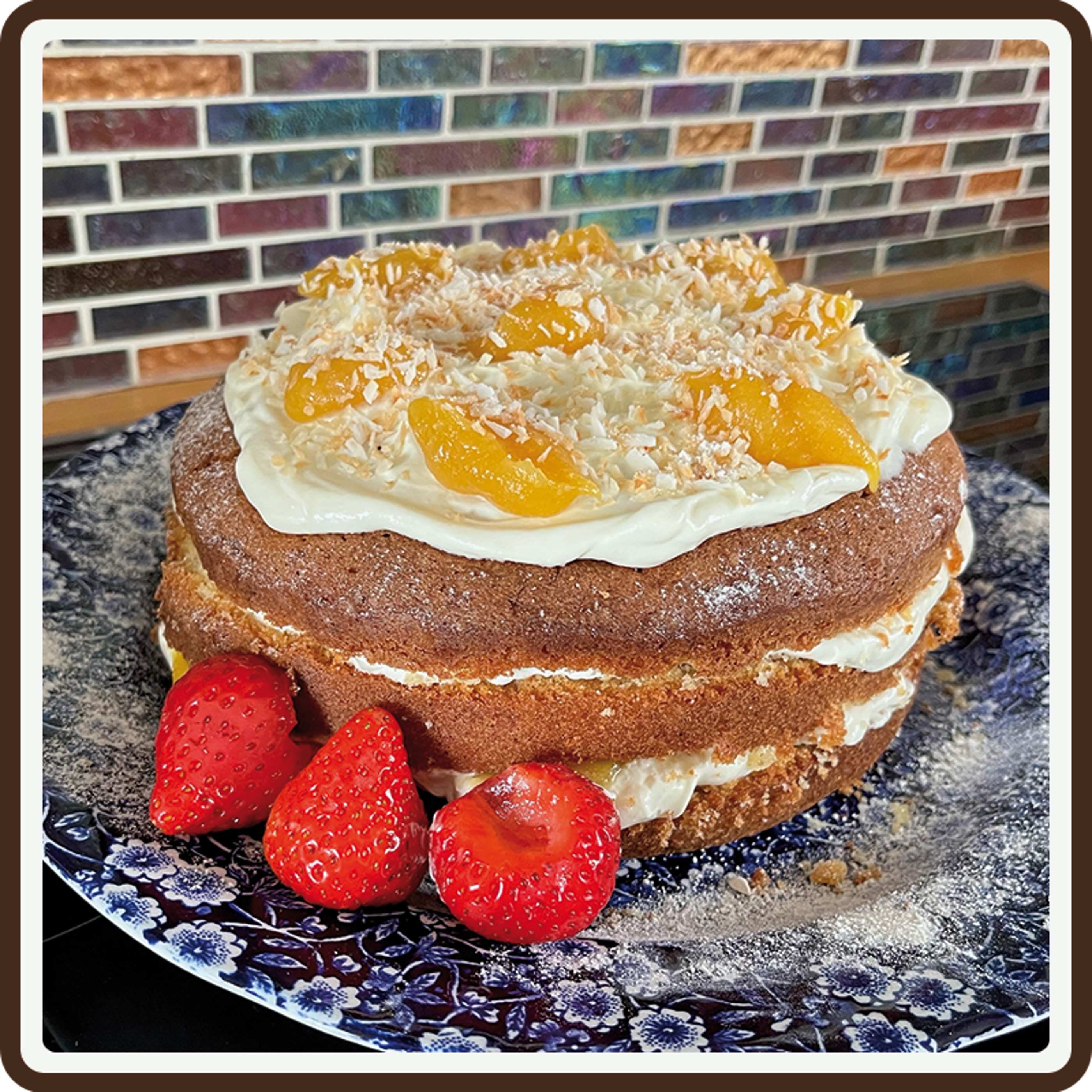 Susie's coconut and curd cake
A little luxury now and then makes this a crowd pleaser.
Ingredients
180g fruit curd (eg passion fruit or orange)
200g butter, softened
210g golden caster sugar
160ml tinned coconut cream
4 large eggs
180g self-raising flour
1 teaspoon baking powder
50g desiccated coconut
300ml double cream
Fruit to serve (depending on curd type)
Method
Preheat your oven to 180ºC, gas mark 4.
Grease and line a deep 20cm cake tin.
Beat butter and 200g of the sugar until light and fluffy.
Beat in half the coconut cream, then the eggs one at a time.
Fold in the flour, baking powder and 40g of desiccated coconut.
Pour into cake tin and bake for 25-30 minutes then cool completely.
Toast the remaining 10g of coconut in a dry frying pan until fragrant.
Whip the cream and remaining 10g of sugar until soft peaks.
Fold the remaining coconut cream into the whipped cream.
When cake is cooled, cut into three layers using a serrated knife and place first layer onto serving plate.
Spread first layer with 1/3 of coconut/cream mixture and top with 1/3 of curd. Repeat with 2nd and 3rd layer of cake, ending with curd and the coconut/cream mixture on top.
Add toasted coconut and fruit (eg passion fruit or mandarins) to top of cake to decorate.
Have you got your own baking recipe you'd like to share?
Please share your recipes with us by emailing community@macularsociety.org and don't forget to include some lovely photos!

Get the latest news and advice from the Macular Society
To hear about life-changing research, treatments and tips for living with sight loss, subscribe to our monthly enewsletter today. Together we can Beat Macular Disease.
Sign up to our free email newsletter