Skills for seeing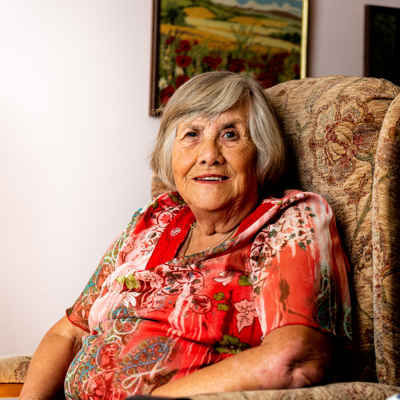 "I can't believe how much I learnt in an hour in my own sitting room, just using a magnifier in a different way and using lighting differently. It all seems such simple and practical advice, but it has made such a difference."
What is Skills for Seeing?
One-to-one advice on how to make best use of the vision you have to continue doing the things you love. Combining vision know-how, magnification, lighting and, where it works for you, 'eccentric viewing' and 'steady eye strategy' techniques.
Who's it for?
Anyone losing their central vision because of a macular condition, including age-related macular degeneration (AMD), particularly in later stages.
Two part programme
Divided into two parts, everyone can benefit from the first session, learning the skills and knowledge to help you manage your condition better. Part two covers 'eccentric viewing' and 'steady eye strategy', but not everyone chooses to do this, it very much depends on your individual circumstances.
What is eccentric viewing?
As the macula changes, some parts will be more effective than others. We help you find your point of best vision and teach you how to use it. You may find you need to look away from an object, looking off-centre, to see it more clearly. It takes time and practice to perfect this skill, but it has helped people to continue to read and carry on with other tasks that require a degree of detail.
What is steady eye strategy?
Steady eye strategy involves keeping your eyes still and moving the text through the best part of your vision, which can help you read faster and more accurately. This technique can take longer to learn than eccentric viewing, but it is particularly useful for people who have a very small part of central vision which is still clear.
Making it work for you
Sessions can be delivered in a number of ways, at no cost to you.
The service can be provided over the telephone or digitally, by trained staff or volunteers on a one-to-one basis, with resource packs available to assist you where needed
You can also access our online training programme here - Eccentric Viewing training - Macular Society
Face to face sessions will resume when it is safe to do in the areas where trainers or partner organisations are available.
For more information about Skills for Seeing and for free one-to-one coaching in these techniques
Please call the Macular Society Helpline on 0300 3030 111 or make a referral  below.
Last review date: 02 2022
Next review date: 12 2023

Join our community at the Macular Society
Become a member today and get your first six months free
From practical tips for dealing with sight loss to the latest research into treatments and a cure; we're here to help you Beat Macular Disease.
Start your free six months free trial today