Connect by Tech service
Are you struggling to use your smart device or get online? One of our Connect by Tech volunteers might be able to help with questions like 'How can I get Alexa to find my favourite music?' to 'I want to surprise my daughter with a video call on her birthday'.  They can also help with using other useful web-based services, such as online shopping, reading recipes and listening to audiobooks.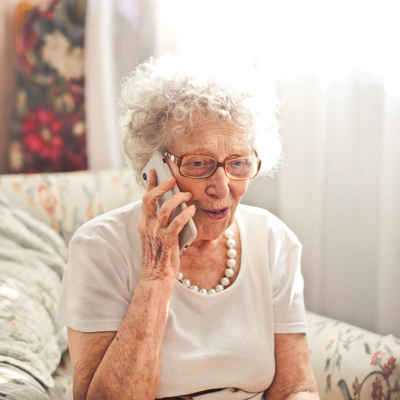 "Speaking to someone else with a macular condition was a real help. Ron definitely knows his stuff, and more importantly he understood the problem I was having. I would definitely recommend the service."
What is Connect by Tech?
The Macular Society's Connect by Tech service offers one-to-one telephone support with the technology you are using around your home. Our volunteers are helping Macular Society members make the most of their:
Smart phones
Tablets
Laptops and Computers
Smart speakers
Other technology
How does Connect by Tech work?
All you need to do is call our Advice and Information line or send an email to techtalk@macularsociety.org and explain what you are having difficulties with. One of our fantastic volunteers will call you and help you with your tech issue. Our volunteers have already helped people with:
Setting up their Alexa
Using the accessibility features on smart phones and tablets
Making video calls to relatives abroad
Setting up a new computer
Zoom and conference calling
And lots more!
How can I help?
If you have a good knowledge of technology and how it works, and you would like to volunteer for this service, we would love to hear from you. This is a telephone service so you would not need to leave the house and you can offer as much time as you are able to spare.
Last review date: 02 2022
Next review date: 12 2023

Join our community at the Macular Society
Become a member today and get your first six months free
From practical tips for dealing with sight loss to the latest research into treatments and a cure; we're here to help you Beat Macular Disease.
Start your free six months free trial today